Turkey: Eleven generals detained over 1997 coup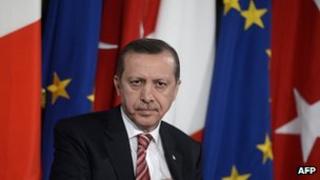 A Turkish court has placed six serving and five retired generals in custody as part of an inquiry into the fall of the government in 1997.
Dozens of people have already been arrested as part of the investigation into the military role in bringing down Necmettin Erbakan's government in 1997.
But the latest detentions implicate a senior serving general, Third Army chief of staff Maj Gen Berkay Turgut.
PM Recep Tayyip Erdogan says he is "seriously uneasy" about the arrests.
His government has led efforts to reduce the influence of the military in Turkish political life. But this week he told reporters that the continuing waves of arrests by police "disturb the social peace".
"When these waves come one after the other, the country is drowned in those waves," he said.
Three sets of arrests took place in April, including the detention of Ret Gen Cevek Bir, who played a significant part in the downfall of Necmettin Erbakan's Islamist Welfare Party.
Unlike the military coups of 1960, 1971 and 1980, the events of 28 Feb 1997 took place without the use of force.
Welfare was banned in 1998 on charges of undermining the secular system but the party provided the roots for Mr Erdogan's AK Party which came to power in 2002.
Mr Erdogan himself was sent to jail for four months while serving as mayor of Istanbul in 1998 for threatening the secular order.