Chechen rebels 'plotted to attack' Sochi 2014 Olympics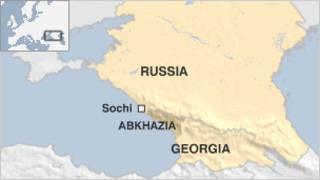 Russian security forces say they have foiled a plot by Chechen rebels to attack the 2014 Winter Olympics in the Black Sea resort of Sochi.
The National Anti-Terrorism Committee said arms, including anti-aircraft missiles, found in nearby Abkhazia were to have been used to attack the games.
The plan was masterminded by Chechen rebel leader Doku Umarov, the committee said in a statement.
It also said Georgia's security services had cooperated in the plot.
Georgian Interior Ministry chief of staff Shota Khizanishvili was scathing about the allegations. "They're always trying to accuse Georgia and its secret services of everything in any situation and without any grounds. This is a sign of severe paranoia," he told Associated Press.
Russia's Federal Security Service (FSB) found the weapons in 10 separate arms dumps during raids on 4 and 5 May in the Georgian breakaway republic of Abkhazia, according to the National Anti-Terrorism Committee (NAC).
Abkhazia expelled Georgian forces in a civil war in the 1990s and has close links to Moscow.
Among the arms found in the caches were surface-to-air anti-aircraft missiles, rocket-propelled-grenade launchers, landmines, flamethrowers, rifles and 15kg of explosives, the NAC said.
As part of the alleged plot, the weapons were to have been gradually smuggled across the border into Russia between 2012-14 and used to carry out attacks in the run-up to and during the Winter Games.
The FSB has previously warned that militants are planning to target the Olympics in Sochi, which is close to the volatile Caucasus region.
Doku Umarov is considered the leader of the Islamist insurgency in the North Caucasus, which calls itself the "Caucasus Emirate".
He is one of the Chechen rebel militant leaders most wanted by Russia, which has repeatedly tried to kill him.
He said he ordered the January 2011 Moscow airport bombing that killed 36 people, and the March 2010 suicide bombings in the Moscow Metro, in which 39 people died.