Ireland prepares for referendum on EU fiscal pact
By Ruth McDonald
BBC News, Waterford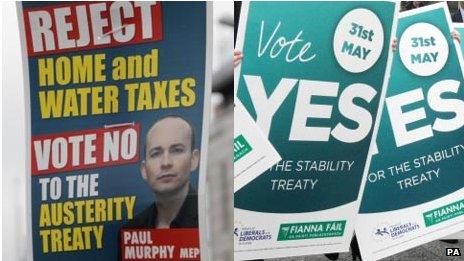 Aura Lee Casey's beauty salon in Waterford city is about as far away as you can get from the drama of Brussels summits, and the economic rollercoaster of the eurozone crisis. But high politics eventually becomes local politics, and on the lampposts outside her salon's door, sets of posters calling for a yes or a no vote in the upcoming fiscal treaty referendum sway slightly in the breeze.
On 31 May, Aura Lee will have to decide how she's going to vote in the referendum.
But she is one of the hundreds of thousands of undecided voters in Ireland, a country with unemployment at 14%, increased emigration and a struggling domestic sector.
In fact, Aura Lee's little salon is a pretty good weathervane for the economic health of this part of the country.
A quick glance around the pretty waiting room shows that, although the facials and manicures on offer look tempting, business is "not what it should be," as Aura Lee puts it.
The aftermath of Ireland's spectacular economic crash, and the fierce austerity of the past few years, has left no room in many people's budgets for little treats.
Aura Lee's seen this at first hand. "There's a definite slip in the luxury treatments, which is what we provide" she says.
"It's the younger girls who tend to be staying away - they'll do their DIY treatments at home. And I know from friends in other salons that they've had the same issue as me".
Waterford has suffered some heavy job losses over the past few years.
First, the closure of Waterford Crystal, which provided well-paying employment in the city for many.
And then, last year, one of its biggest employers, call centre Talk Talk, announced it was closing its base in the city - with the loss of nearly 600 jobs.
Aura Lee feels the impact in her salon: some of the Talk Talk workers were her customers, too.
There are some green shoots in Ireland, though - there has been a clutch of welcome jobs announcements here over the past few months, including in the much coveted high-tech sector.
But Aura Lee points out that any jobs that are being created appear to be going to other parts of the country: "There's nothing for Waterford. I feel like we're kind of left in the lurch - we seem to be forgotten about and left out of it. We really need growth and jobs down here".
Cities like Waterford are important battlegrounds for both the Yes and No camps as voting day looms.
But no-one here is helped by the fact that the EU's fiscal pact is, admittedly, rather difficult to explain.
So the Yes side, including the coalition government (Fine Gael and Labour), and the main opposition party (Fianna Fail), has settled for the much shorter "Stability Treaty" - easier to fit on a poster, at least.
The Stability Treaty, they say, will help to create the conditions for economic growth and recovery.
It will not solve Ireland's financial problems by itself: Ireland is, after all, still in the throes of an EU/IMF/ECB bailout.
However, the Yes side maintains, it will bring stability to the eurozone which will, in turn, benefit Ireland.
A Yes vote, they say, will also allow Ireland access to the eurozone's future permanent bailout fund, the ESM, in case it is ever needed again - the government describes it as an insurance policy.
But on the other hand, the No side (including socialists and left-wing parties, plus Sinn Fein) have dubbed it the "Austerity Treaty" - equally snappy, and a great deal less soothing.
Voting yes to this means austerity for years to come, they say.
Forget jobs and growth, is the message - this treaty, many in the No camp claim, with its emphasis on fiscal discipline, means the belt-tightening that Ireland has been experiencing since the onset of the financial crisis is not going to go away any time soon.
The posters for the two opposing camps tell their own story.
The Yes side's posters feature references to investment and stability; some show an Irish flag fluttering, perhaps in optimistic fashion, in a bright, blue sky.
The No side have gone for images of long dole queues, and roads leading, apparently, nowhere.
In fact, if you put "Stability Treaty" and "Austerity Treaty" into your search engine of choice here, you will get a dizzying array of information about the pact, what it stands for, what it will do, and what its effect will be.
The influential, and unashamedly wonkish, Irish Economy blog, which features posts from some of the country's leading economists, has devoted a great deal of informed discussion time to the ins and outs of the compact, for example.
But for some, it is just too confusing to take in.
Back in Dublin, Eleanor, a vibrant young woman in her early twenties, is handing out samples on busy Grafton Street.
She laughs at the notion that she understands what she is being asked to vote on. "I had a look through it, but none of it made sense to me at all. I hadn't a clue!"
Eleanor has been affected by the bitter recession here, though. She was made redundant from her old job, and had to go back to college.
"At the age of nineteen, I was making a lot more than I was making now", she explains. "I had to start again".
Despite intensive campaigning on both sides, and the fact that Eleanor and I are standing underneath a lamppost that is nearly weighed down with referendum posters as we chat, she is relying on her dad "to make sense" of the fiscal compact referendum, and to help her make her mind up on how she should vote.
Ireland has form on rejecting European referenda though - the country famously said No to the Nice Treaty in 2001, and No to the Lisbon Treaty in 2008.
This time Ireland has no veto - the fiscal pact needs only 12 member states to sign to up to it to become operational.
However, the debates here are as alive as ever.
The challenge for both sides is to mobilise an electorate, many of whom find the treaty both confusing and remote.
There is huge discontent here already with planned property taxes and water charges in the pipeline.
Whether that translates into an anti-government, and by extension, anti-treaty, vote remains to be seen.
But the stage is set for a crunch vote described by Ireland's prime minister as more important than a general election, as the result will last well into the future.
Related Internet Links
The BBC is not responsible for the content of external sites.