Breivik trial: Survivors' bravery in reliving Utoeya massacre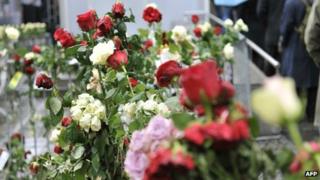 As traumatised survivors relive the horrors of what happened on the idyllic Norwegian island of Utoeya on 22 July last year, the trial of Anders Breivik has entered a new and difficult phase.
The court heard from Lars Oeberg, 19, who was close enough to Anders Breivik to see the colour of his eyes. He described the gunman, dressed in police uniform, as "calm and stony faced" as he killed.
Lars Oeberg swam for his life, away from the island.
He told the court that he saw Breivik aim for him and then get distracted, turn away and shoot another boy in the head. "I will have to live with what happened for the rest of my life," he told the BBC after giving his testimony.
Another survivor spoke of cowering, cold and wet and covered in blood, as Anders Breivik fired shots down a slope of the island. One of his bullets hit a rock that had fallen on her neck.
"I thought it was just a question of time before I was hit," said Tonje Brenna, who described Breivik making whoops of joy as he fired.
Tears
The court has also been hearing coroners' reports on the post-mortems of the dead, revealing disturbing details of exactly how they were killed.
It emerged that one young man, who was shot three times in the back, had - before his death - described the summer camp as the "best week of his life".
Many relatives in the courthouse have been sobbing quietly through the testimony.
"It's been horrible. Absolutely horrible," says Christin Bjelland, who works with a survivors' support group. Her 15-year-old son was on the island of Utoeya when the massacre took place.
"I've been in tears. It's a painful process but a necessary one. The judges must hear all the facts."
Outside the tightly-guarded courtroom in Oslo, flowers have been left in memory of Breivik's young victims. Their average age was just 18.
"It's been very tough," says forensic psychiatrist Henning Vaeroy, who has been attending the hearings in the specially constructed courtroom in Oslo. "Even the prosecutors and psychiatrists have been crying."
'Mad and evil'
Breivik, dressed in dark suit and tie, has sat through the testimony, showing barely a hint of emotion. Last month, he expressed regret that he had not killed more people and throughout his trial he has shown no remorse.
The court must decide on his sanity.
"Of course, his views are mad and evil," Vaeroy told the BBC. "But, in psychiatric terms, he has shown no signs of psychosis or insanity to me."
"He keeps his stony face because his agenda is to get his extreme political message across. I think that is his psychological defence against the emotional testimony that is being given in court."
Breivik is now sitting in court one row back from his usual position, so he is further away from the witnesses.
They can ask the court for Breivik to listen to their testimony from another room altogether - to avoid seeing him.
But most of the survivors who have spoken so far have chosen to look him in the face. Despite their trauma, all have been calm, composed and dignified.
Survivor Bjorn Ihling was so sure he was going to die at the hands of Breivik that he told the court that "it felt like my soul left my body" as he swam away from the island in terror, with the gunman shooting after him.
Later he told the BBC: "The most difficult moment on the island was seeing a pile of bodies and hearing a cell phone ringing and ringing from within it and realising that it belonged to someone who would never be able to speak to their loved ones again. That has stuck with me."
But Bjorn Ihling told me that looking at the killer had been a healing experience.
"He can't hurt me any more. The courtroom is a very safe place. He can never hurt me again and that's important for me to remember."