Greek Pasok leader Evangelos Venizelos hits stalemate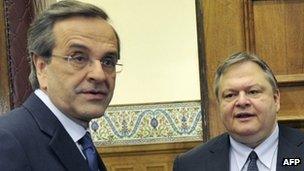 The latest attempts to form a Greek government are said to be deadlocked, raising the prospect of fresh elections and more uncertainty for the eurozone.
The chance of a deal are "very slim", a senior government source told the BBC.
The leader of socialist party Pasok, Evangelos Venizelos, has been holding a series of talks with other party heads but has not made a breakthrough.
Greece's debt crisis has raised the possibility the country could default and be forced out of the eurozone.
German officials have kept up the pressure on the Greek politicians by warning that the country must stick to the terms of the bailout and repay its loans.
Mr Venizelos is the third leader to try to reach a deal since Sunday's election produced a hung parliament.
Earlier, there was some optimism that he might be able to form a coalition government with the centre-right New Democracy and the small Democratic Left party. However, Democratic Left leader Fotis Kouvelis later rejected this possibility.
He said the left-wing Syriza party, which says the austerity measures imposed as part of the bailout are too harsh, must be part of any new administration.
Syriza got the second-highest number of seats in Sunday's elections after New Democracy. Following talks with MR Venizelos on Friday, Syriza leader Alexis Tsipras said he would not join the coalition.
Sources have told the BBC that Mr Venizelos is now unlikely to succeed in forming a government and is expected to hand back the mandate to the president on Saturday - barring any last-minute surprises.
The president would then probably summon all party leaders over the weekend for one last attempt at an emergency national salvation government. Failing that, elections could be announced on Sunday or Monday, our correspondent says.
Mr Venizelos met New Democracy head Antonis Samaras on Friday morning, without making any public comment afterwards.
Pasok dominated Greek politics for most of the past four decades, but saw its support slashed - coming third with just 41 seats in the 300-seat parliament.
Our correspondent says the party is deeply unpopular - seen as the architect of austerity, and tainted with allegations of corruption.
Pasok and New Democracy formed the outgoing coalition but lost their majority in parliament.
After meeting the Democratic Left leader on Thursday, Mr Venizelos said progress had been made.
Our correspondent said this meeting seemed to provide the framework of an agreement for a coalition that would lighten the austerity measures in Greece, renegotiate parts of the loan agreement but try to keep the country in the euro.
They hoped to persuade New Democracy to accept the plan - those three parties would have enough seats for a parliamentary majority.
But these hopes were scuppered by Mr Kouvelis, who told his party: "We will not participate in a government with [just] New Democracy and Pasok... Unless Syriza changes stance, we will have repeat elections."
After meeting Mr Venizelos, Mr Samaras told his MPs: "We are fighting for a government to exist - and there is still hope this can happen."
He said Syriza was being irresponsible but also hinted that their support might be needed to ensure that any government was "durable".
New Democracy won the most votes, taking 108 seats, but Mr Samaras was unable to woo other party leaders.
Syriza's leader also failed to form a government because of his insistence on rejecting austerity measures demanded by the EU and IMF.
Pasok and New Democracy between them have 149 seats, two short of a majority. The Democratic Left party has 19 seats.
As the prospect of fresh elections loomed, Thursday's opinion poll put Syriza in first place with nearly 28% of the vote - up from 16.8% - winning 128 seats.
The Marc survey for private Alpha TV put New Democracy in second place with 20.3% and 57 seats, and Pasok third with 12.6% of the vote and 36 seats.
The political deadlock has brought warnings from European leaders that debt-laden Greece could be thrown out of the euro if it does not stick to tough spending cuts and economic reforms.
On Friday, German Foreign Minister Guido Westerwelle told parliament: "The future of Greece in the eurozone lies in the hands of Greece.
"We want to and we will help Greece, but Greece has to be ready to accept help. If Greece strays from the agreed reform path, then the payment of further aid tranches won't be possible. Solidarity is not a one-way street," he said.
German Finance Minister Wolfgang Schaeuble told the Rheinische Post newspaper that Europe "won't sink" if Greece leaves the eurozone.
Athens is due to approve fresh budget cuts worth 14.5bn euros (£11.6bn; $18.8bn) next month, in return for financial help from the EU and IMF worth a total of 240bn euros.