Anarchists 'shot nuclear boss Roberto Adinolfi'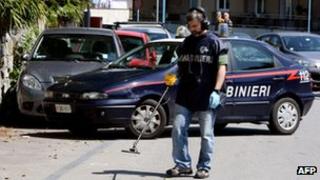 An Italian anarchist group has said it carried out an attack last Monday on a senior executive of nuclear engineering group Ansaldo Nucleare.
Roberto Adinolfi, 53, was shot in the leg by a gunman on a motorbike in the northern Italian city of Genoa.
He has undergone surgery and colleagues have said his condition is not serious.
The "Olga Cell" of the FAI (Informal Anarchist Federation), made the claim by a letter sent to the Italian daily Corriere della Sera.
The letter says that the attack "was carried out to punish one of the many sorcerers of the atomic industry".
Strong presence
The Ansaldo group is part of aerospace and defence giant Finmeccanica.
Four of its managers were targets of attacks in the 1970s and '80s by the far-left Red Brigades movement.
The shooting of Mr Adinolfi has prompted investigators to draw similarities with the previous attacks.
Investigative sources have pointed at anarchists involved in extremist activity as possible suspects.
The incident has sparked fears that the shooting could be a signal for sleeper cells to carry out more attacks or spark copycat shootings.
The anarchist movement has a strong presence in Genoa.
According to Italian news agency Ansa, police were examining recent pronouncements by some anarchist groups which have called for "a shift to a new phase that could lead to armed action".
The FAI has carried out a string of attacks on European institutions, including parcel bombs that exploded at the Swiss and Chilean embassies in the Italian capital Rome in 2010, badly wounding the two people who opened them.
A third bomb sent to the Greek Embassy four days later was defused.
In December last year, a parcel bomb exploded at a tax collection office in Rome, injuring the director. Police said the package also contained a leaflet signed by the anarchist group FAI.