French leftist Jean-Luc Melenchon to challenge Le Pen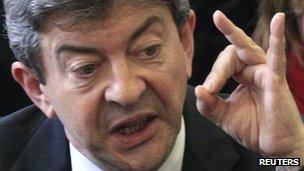 French left-wing party leader Jean-Luc Melenchon says he will run for the same seat as far-right rival Marine Le Pen in the forthcoming parliamentary polls.
Mr Melenchon says he will stand in the working-class town of Henin-Beaumont, near Calais, where Ms Le Pen resides.
Ms Le Pen's National Front won more than 30% of votes in the town in the first round of the presidential poll.
In that poll, Mr Melenchon won 11% of the vote, achieving fourth position behind Ms Le Pen.
"I am coming here because there is a battle which has a national significance and, if I may say so, an international one too because all eyes are upon us in Europe," Mr Melenchon, leader of the Left Front party, told supporters in Henin-Beaumont.
"In this battle, two visions for solving the crisis will be confronted, so let's compare," he said.
"Is the problem with the immigrants or is it with the bankers? For us, it's the bankers."
Ms Le Pen dismissed Mr Melenchon's bid as a "secondary phenomenon".
French voters will elect a new National Assembly (lower house) in a two-round election, on 10 and 17 June.
Related Internet Links
The BBC is not responsible for the content of external sites.