EU central bankers ponder Greece euro exit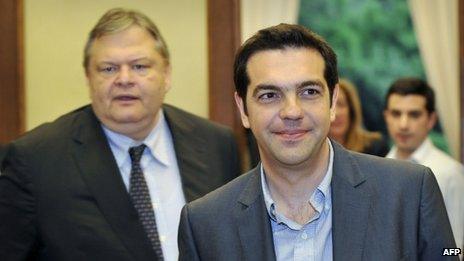 European central bankers have been openly expressing views on the possibility of Greece leaving the eurozone as its leaders struggle to form a government.
Germany's top banker said it was up to the Greeks to decide, but if they did not keep to their bailout commitments, they would receive no new aid.
His counterpart in the Irish Republic said a Greek exit would be damaging but not necessarily fatal to the euro.
Greece is to make a final attempt at forming a government on Sunday.
President Karolos Papoulias is to meet party leaders after they failed to deliver a coalition through their own negotiations.
Greek voters punished mainstream parties which backed the bailout at last Sunday's parliamentary election.
If no new government is formed, a new election will have to be held, and opinion polls suggest Syriza - a leftist, anti-bailout party - will benefit most.
Syriza firmly rejects the terms of the most recent EU-IMF bailout, which requires tough austerity measures in return for loans worth 130bn euros ($170bn; £105bn).
On Saturday, German central bank chief Jens Weidmann said: "If Athens doesn't keep its word, it will be a democratic choice.
"The consequence will be that the basis for fresh aid will disappear."
Without financial aid, there is the possibility that Greece will default.
"We're a breath away from the drachma and disaster," liberal Greek daily Kathimerini warned on Saturday, referring to the country's old currency.
Per Jansson, deputy head of Sweden's central bank, was quoted by Bloomberg as saying on Friday that central bankers across Europe had begun discussing the possibility of a Greek exit from the eurozone and how to handle the consequences.
"I would be very careful in speculating that it would be a painless process without complications," he said in Stockholm.
Irish central bank chief Patrick Honohan told a conference in the Estonian capital Tallinn on Saturday: "It [a euro exit] is not imagined in the legislation, in the treaties, but things can happen that are not imagined in the treaties."
"Technically, it can be managed," he added.
"It would be a knock to the confidence for the euro area as a whole. So it would add to the complexity of the operation until things settle down again. It is not necessarily fatal, but it is not attractive."
Speaking at the same conference, EU Economic and Monetary Commissioner Olli Rehn was quoted by Bloomberg as saying Europe was "certainly more resilient" to a possible Greek exit than it had been two years ago when it would have been "massively under-prepared".
"I still believe that Greece can stay in the euro and find the way to make sure that it respects its commitments," he said, adding Greece would suffer more than Europe if it left the euro.
A spokesman for Syriza, John Bournos, told BBC News his party wanted Greece to remain within the eurozone but it rejected the "super-austerity" measures imposed on Greeks by German Chancellor Angela Merkel.
"Greek people have been suffering in order to pay off speculative interest rates and make the private banking systems of Greece and Europe richer," he told the PM programme.
"What we will offer is the future existence of the eurozone... They are not willing, and they will not dare, to kick Greece out of the eurozone."
After Greece's three biggest parties - the centre-right New Democracy, far-left bloc Syriza and socialist Pasok - each failed to form a government, President Papoulias called them to a meeting on Sunday.
He will also hold talks with fringe parties including Golden Dawn, an extreme right-wing, anti-immigration group.
Analysts say the president's bid is unlikely to succeed because the parties are so divided over the bailout.
Syriza leader Alexis Tsipras said on Friday he could not join any coalition that intended to implement the bailout deal.
"The bailout austerity has already been denounced by the Greek people with its vote, and no government has the right to enforce it," he said.
Analysts say Syriza could be hoping for another election after one opinion poll put them in first position in any new ballot, albeit without an overall majority.