'Indignants' cleared from Madrid's Puerta del Sol square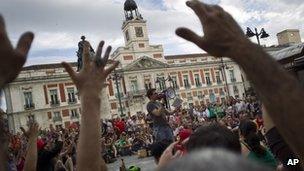 Anti-austerity protesters who defied police warnings not to gather in Puerta del Sol square in the Spanish capital, Madrid, have been cleared out.
Police intervened following a clash between protesters, local media say.
Police dispersed a similar protest on Sunday. It was part of a weekend in which tens of thousands protested.
The square is a focal point for the movement of "indignants", which erupted in response to economic crisis and austerity policies exactly a year ago.
According to Spanish media, the square was re-opened to traffic early on Monday after remaining demonstrators were evicted.
Some 100 policemen entered the area after a fight broke out between two protesters, leaving one man wounded, reports said.
Hundreds of demonstrators had returned to the square on Sunday in defiance of an earlier clear-out by police.
Many shouted slogans in support of 18 people who had been detained by police in the round-up. Others said, "We won't pay for your crisis!".
According to El Pais newspaper, nine of the 18 arrested have now been freed but the remaining nine are due in court on Monday.
Demonstrators are marking the anniversary of the "indignados" movement and protesting against the fresh austerity drive of the conservative People's Party, which was voted back into office last November.
Saturday's marches across Spain launched four days of protest which will culminate on Tuesday, 15 May - dubbed 15M - the exact anniversary of the movement's birth.
Madrid authorities vowed not to allow a repeat of last year's month-long occupation of Puerta del Sol square.
Authorities have permitted protesters to use the square for a fixed number of hours each day, and Deputy Prime Minister Soraya Saenz de Santamaria said the government would ensure those hours were respected, said AFP news agency.
Since returning to power in December, Prime Minister Mariano Rajoy has vowed to undertake harsh austerity measures - promising a major reform "every Friday".
He defended such policies at a political rally on Sunday, reported Reuters news agency, saying they were necessary to tackle the country's economic problems.
"We'll get out of this [crisis] if the government doesn't tire of making reforms, and the government is not going to tire," Mr Rajoy reportedly said.
But amid a relapse into recession and an unemployment rate that has soared to 24%, many protesters say such policies are not working.