Baader-Meinhof militant Becker denies role in 1977 murder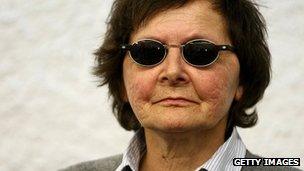 A former member of the German far-left Red Army Faction (RAF) militant group has denied being involved in one of the gang's most notorious murders.
Verena Becker, 59, was put on trial in 2010 over the 1977 killing of Germany's top prosecutor, Siegfried Buback.
After refusing to testify since then, she has now broken her silence to say that she had no role in the murder.
The RAF, also called the Baader-Meinhof gang, killed more than 30 people.
The group broke up more than 10 years ago. At the height of their campaign against the West German elite and "US imperialism" in the 1970s and 80s, they targeted bankers, businessmen, judges and US servicemen.
Ms Becker is charged with three counts of murder in connection with the killing of Mr Buback and two men who were escorting him.
She is accused of playing a crucial role in planning and carrying out the murder, but not of being the shooter, who has never been found.
"These accusations are false and I cannot let them stand as they are," Mr Becker told the court in the south-western city of Stuttgart, after a silence of more than 18 months.
She said she was in the Middle East at the time of the killing, and had no role in the planning of the assassination either.
She also addressed the victim's son, Michael Buback, who is a party to the case, with the aim of finding out the identity of his father's killer.
"I can't answer for you this question of who killed your father, because I wasn't there," she told him.
Mr Buback and the two other victims were shot dead by a passenger on a motorcycle as their car stopped at traffic lights on the way to Karlsruhe court.
Ms Becker was arrested the month after the murders, following a shoot-out with police, but there was insufficient evidence at the time to convict her of Buback's killing.
Sentenced to life imprisonment for her role in six other murders, she was pardoned by then President Richard von Weizsaecker in 1989 and released.
But in 2009, she was rearrested when police said new forensic methods had detected traces of her DNA on a letter in which her group claimed responsibility for the Buback murder.
She was charged in April 2010 and put on trial in September that year, but refused to answer the charges. She faces a possible life sentence if convicted.
Related Internet Links
The BBC is not responsible for the content of external sites.