Final day for fiscal treaty voting register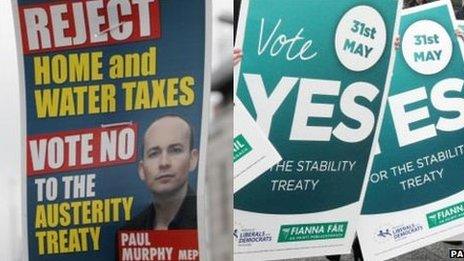 Monday is the last day it is possible to be added to the supplementary voting register in time to vote in the fiscal treaty referendum on 31 May.
All adult Irish citizens can register. Voters can check their details on the register in all local authority offices, post offices, garda stations and public libraries.
Last week, an opinion poll suggested that support for the Republic of Ireland signing the fiscal treaty had increased.
Out of 1,000 people questioned in the Red C survey, 53% said they would vote Yes in the referendum, up six points on the last poll two weeks ago.
The poll suggested 31% would vote No, down four points, while 16% were undecided, down two points.
The referendum will decide Ireland's support for the treaty, designed to tighten budgetary rules across Europe.
Those advocating a Yes vote said the treaty would bring stability to Ireland's bailed out economy, while those on the No side believe it would mean years of further austerity.
Only the Czech Republic and the United Kingdom have refused to sign up to the pact.
People can also check they are registered by logging onto www.checktheregister.ie.
Related Internet Links
The BBC is not responsible for the content of external sites.