Peter Mangs pleads not guilty over 'racist' Malmo attacks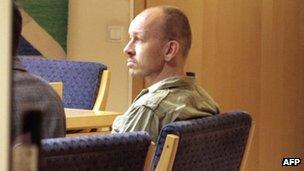 A man has pleaded not guilty to murder and attempted murder following a series of shootings in southern Sweden.
Peter Mangs, 40, entered the plea at the start of his trial in Malmo. He is accused of carrying out more than a dozen attacks in the city in 2009 and 2010, and two murders in 2003.
Most of his victims had foreign backgrounds.
They were shot through the windows of their homes or workplaces, in parked cars, or on the street.
Malmo is Sweden's third-largest city, and one of the country's most ethnically diverse, with 40% of its population first or second generation immigrants.
Mr Mangs denied three counts of murder and 12 counts of attempted murder.
There was tight security in the courtroom as his trial began on Monday. The defendant was seated behind a screen of bullet-proof glass.
Chief prosecutor Solveig Wollstad told the court detectives had found a gun equipped with a silencer hidden under pillows in Mr Mangs' flat.
Mr Wollstad said Mr Mangs changed the barrel of his weapon between shootings to confuse investigators.