NRW election: Merkel shaken at state poll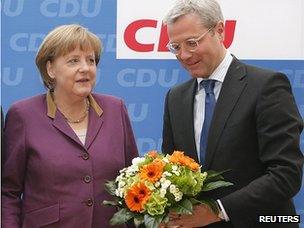 You do not need to understand German to get the message after the elections in Germany's largest state, North Rhine-Westphalia.
It was a "Desaster" or a "Debakel" or a "Katastrophe" for Angela Merkel's Christian Democratic Union, depending on which paper you read.
In any language, it was a drubbing for the CDU - "a bitter, painful defeat" according to the Chancellor herself.
As Peter Altmaier, the party's chief whip in the Bundestag, put it: "This result exceeds our worst fears."
It is true that it was only a regional election, but NRW, as it is commonly called, has a population of 18 million (nearly one in four Germans), so how they vote says much about which way the national wind blows
Not only did we learn that the gale is blowing more fiercely against the CDU, but also that Germany's main opposition party, the Social Democratic Party, has the wind in its sails (its vote rose by more than 4% compared with a fall of 8% for the CDU).
We also learned that what seems to be the party of protest - the Pirate Party - continues to do well.
Its main platform is on internet freedom, and it has little to say about the minutiae of tax rates or eurobonds - but it did attract enough support to give it seats in its fourth regional parliament.
There is disgruntlement with the mainstream parties out there, and unhappy voters are clambering aboard the Pirates' vessel.
But what do the results say about:
Whether Germany might change course in its determination to drive through austerity measures in the rest of the eurozone?
Who will win the national elections in 2013 (or before if the current coalition in Berlin collapses)?
The NRW election was fought primarily on regional policy.
However, the CDU's leader there, Norbert Roettgen, tried to tie it to Germany's policy on the eurozone debt crisis, saying it would decide "whether Angela Merkel's course in Europe is strengthened or whether it is weakened by the re-election of a pro-debt government" in NRW.
This is now widely perceived as a mistake.
"He did almost everything wrong in the campaign," said the Sueddeutsche Zeitung.
But if the election was not an out-and-out referendum on Chancellor Merkel, it did make public spending an issue.
The victorious Social Democrats had emphasised their commitment to strong public services and that they were threatened by "austerity".
During the campaign, local mayors complained that municipal swimming pools were being closed for lack of funds while money was being spent more freely in the old East Germany.
So there are signs that Germans are unhappy at the squeeze on their own finances and on the finances of their government.
But that does not mean Germans have an issue with Chancellor Merkel's austerity policy outside Germany, towards the euro. On that, there are no signs of substantial discontent. Austerity within Germany is a topic which divides the parties; austerity for the euro-zone is not, or not yet.
But what damages her party must also damage her. It must make it harder for her to govern (even as she retains personal popularity). She had distanced herself from the NRW election by saying it was an important regional election, no more and no less.
Gero Neugebauer, a political scientist from the Free University in Berlin, said the result meant that her critics would be able to say that "she has a strong position in Europe but at home she can't ensure her party achieves a good result in an important state election".
Or as the paper, Die Welt, put it more graphically: "The ground is shaking beneath Angela Merkel."
The person doing much of that shaking is the rising star of the Social Democrats. Hannelore Kraft leads the party in North Rhine-Westphalia and is the state's Minister President (its prime minister).
She has charisma and what one of the German newspapers described as "authenticity". Born in 1961, she worked as a bank clerk before training as an economist.
She seems affable, certainly describing herself as such on her website, where she lists her hobbies as "play, sport and fun, with husband, son and dog - and having a convivial time with friends".
In contrast to this "regular kind of person" image, her opponent in the CDU in the state was described by newspapers as seeming "arrogant" and out of touch with ordinary concerns.
In the national election in 2013, the SPD will have a different opponent in Chancellor Merkel- whom nobody calls arrogant. Indeed, she is usually portrayed as a woman of the people (shopping in a supermarket, living in her own small flat rather than the official residence, going to her regular weekly session in the local sauna while the Berlin Wall came down).
After the elections in Germany's biggest state, the ground has certainly shaken under her. But it has not yet shaken her off her feet. It has sent her signs of discontent with her party and with a squeeze of public spending in Germany.
In the past, Chancellor Merkel has shown a pragmatic side. The lady has been for turning (think of nuclear power, which she praised then halted). But she has nailed her colours so firmly to the mast of austerity for the eurozone, that that is unlikely to change.
Within Germany, the government may become a little freer with money, particularly if the SPD makes headway with the voters on a platform against austerity.
The German government has already indicated that inflation higher in Germany than in the rest of the Eurozone might be a way of helping out the economies of Greece and Spain.
Chancellor Merkel has a fight on her hands - but she is not finished yet.