NRW election: Merkel admits 'bitter' defeat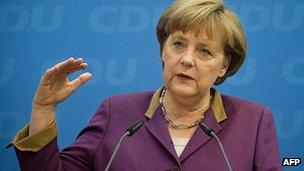 Chancellor Angela Merkel has admitted her Christian Democrat (CDU) party suffered a "bitter, painful defeat" in Germany's largest state election.
However, she said the result in North Rhine-Westphalia would have no impact on her policy on Europe's debt crisis.
The election saw the governing Social Democrats increase their share of the vote, while support for Mrs Merkel's CDU fell to its lowest post-war level.
But she insisted she was "very relaxed" about national elections due next year.
Analysts say many voters rejected Mrs Merkel's tough line on fiscal discipline as a cure for state debt.
The CDU had attempted to portray the Social Democrat-led state government as irresponsibly spendthrift.
However, speaking on Monday, after the result of Sunday's vote was clear, the Chancellor defended her stance on austerity, insisting there was "no conflict between solid budgetary policy and growth".
In another development, Germany's Pirate Party won seats in North Rhine-Westphalia, making it their fourth state parliament.
The Pirate Party has grown in strength recently with its calls for transparency and internet freedom.
Official results give the Social Democrats (SPD) 39.1%, the Christian Democrats (CDU) 26.3%, the Greens 11.3%, the Free Democrats (FDP) 8.6%, the Pirates 7.8% and the Left, 2.5%, reported AP news agency.
The FDP, the CDU's national coalition partner, performed better than expected, increasing their vote by nearly two percentage points and thereby giving the lie to speculation that they might fail to win seats.
The Left, which won 11 seats at the last election in 2010, failed to pass the 5% threshold and are out of the state parliament.
An early election was called in March after the minority SPD-Green government narrowly failed to get a budget passed.
During the election campaign, NRW state premier and SPD candidate Hannelore Kraft emphasised strengthening indebted local communities, investing in education and boosting the state's business appeal.