Sea Shepherd founder Paul Watson faces extradition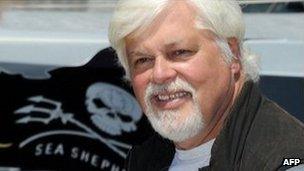 The founder of US-based anti-whaling group Sea Shepherd, Paul Watson, has appeared in court in Germany.
The marine conservationist faces extradition to Costa Rica over charges arising from a clash with a ship that was fishing for sharks.
The confrontation occurred in 2002 in Guatemalan waters.
An official from the prosecutor's office said Mr Watson was accused of using his vessel to intimidate another, putting the crew at risk.
Guenter Wittig said Mr Watson was currently in temporary custody and a judge would decide whether to formally place him in detention pending extradition.
Sea Shepherd is a controversial direct action group best known for disrupting Japan's annual whale hunt.
In the past there have been collisions between its vessels and the whaling fleet, and its activists have also boarded Japanese vessels.
The group said the German warrant related to an "alleged violation of ships traffic" which took place a decade ago when it "encountered an illegal shark finning operation" - referring to the practice of catching sharks, slicing off their valuable fins and returning the shark to the water where it will usually die.
On order of the Guatemalan authorities, the group says, it instructed the crew of the Costa Rican vessel in question, the Varadero, to head back to port to be prosecuted.
"While escorting the Varadero back to port, the tables were turned and a Guatemalan gunboat was dispatched to intercept the Sea Shepherd crew," the statement claims.
"The crew of the Varadero accused the Sea Shepherd of trying to kill them, while the video evidence proves this to be a fallacy.
"To avoid the Guatemalan gunboat, Sea Shepherd then set sail for Costa Rica, where they uncovered even more illegal shark finning activities in the form of dried shark fins by the thousands on the roofs of industrial buildings."
Media cite Costa Rican reports as saying Mr Watson also faces an outstanding warrant for attempted murder stemming from the same incident.
Related Internet Links
The BBC is not responsible for the content of external sites.