Dublin taxi drivers ordered to remove green lights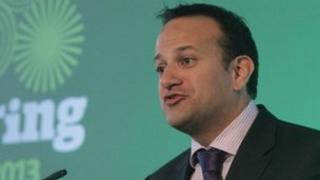 The Irish transport minister has described green lights on some Dublin taxis as "inherently racist".
Leo Varadkar said it was "inherently xenophobic" that some taxi drivers had placed them on their vehicles to distinguish those driven by native Irish from those driven by migrants.
He has ordered that the lights be removed.
The drivers said the lights were not meant to be racist but to show when a driver was available for hire.
Christy Humphrey from the National Private Hire and Taxi Association said they were not meant to signify anything.
"All the light is indicating is that it is a taxi," he said.
"It is not indicating that the man driving the taxi is black or white.
"They are certainly not meant to signify they are Irish because anybody of any nationality can go in and buy one.
"You can buy them outside the taxi industry, you don't have to be in the taxi industry to avail of them.
"They're freely available to anyone."
Mr Humphrey said anyone using the green lights was breaking the law.
"It is illegal to display anything on your roof sign in Dublin other than a telephone number where you can be booked or a representative group that represents you," he said.
He said similar lights were available in Spain and other European countries.
"They're a small green light that sits on the roof of the car," he said.
"People bought them because the signs, unlike any other part of the country or the world are all different sizes and shapes.
"Some are made of cheap plastic, they fade, rather than replace the roof signs, people have put these green lights on which are effective.
Illegal
"They're freely available at 25 euros to anybody."
On Tuesday, Mr Varadkar told RTE: "The green light does not form part of the official sign so it is not permitted and the green lights do have to be removed."
In a statement, in response to TheJournal.ie which broke the story on Monday, the National Transport Authority (NTA) said it had not, to date, seen a prevalence of additional green taxi roof sign lights.
The NTA said any such lights, regardless of the reason for their display, were contrary to rules relating to customising taxi roof signs and should therefore be removed.
"In relation to alleged usage of signs to denote nationality, we note that the National Transport Authority will not tolerate racism in any form nor from any source, driver or passenger," the statement continued.
"The authority takes any incidences of discrimination extremely seriously and refers all such matters to the authorities with the power to investigate such complaints."
The NTA said in recognition of the multicultural society in the Republic of Ireland, a module on diversity and equality was included in the small public service vehicle driver skills development programme launched in 2009.
All new entrants since May 2009 have had to sit the course.