Spain's Indignados protest here to stay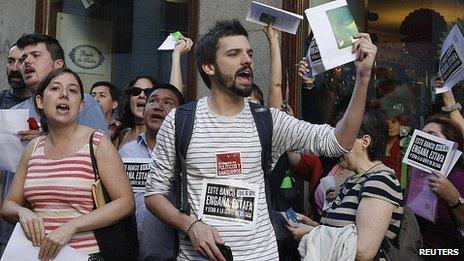 Spain's grassroots protest movement called Los Indignados - "the indignant ones" - is a year old. It began with thousands of mainly young Spaniards camping out in Madrid's central square, Puerta del Sol.
Now the movement is known as 15-M, after the date it started, and has reached far beyond Spain. The BBC's Tom Burridge in Madrid examines what 15-M stands for now.
Nine people sit in a circle in a community centre in the working-class neighbourhood of San Blas, in Madrid.
Meanwhile several hundred people sit late into Monday night cross-legged in Puerta del Sol square.
In San Blas they discuss a plan to brew a local beer and sell it.
In central Madrid they talk about austerity and why they oppose government cuts to public services.
Both events are organised by 15-M.
The 15-M network can legitimately claim to be the birth of the "Occupy" movement, which inspired sit-in protests outside London's St Paul's Cathedral and in New York's Central Park.
However 15-M has evolved into a social movement in Spain, in which young and old are heavily involved. They mobilise through social networks such as Facebook and Twitter.
According to Gloria Benito, 23, it's "an attitude".
She turned out on the eve of 15-M's first birthday to listen to others give speeches about crisis-hit Spain.
"It's about social responsibility," she says.
Asunta Garcia, 49, describes it as a network of small groups or assemblies across Madrid and other Spanish cities that is helping the elderly, stopping people's houses from being repossessed and carrying out initiatives that "no-one else is doing".
For Ramon Audrio, 26, the beauty of 15-M is that anyone can participate in an assembly, in which collective decisions are made.
He believes people can do little to change modern politics which, in his view, is controlled by supra-national organisations.
"It's about changing society," he says.
Arturo de Bonis, a former industrial engineer and employee at the World Bank, helped set up the San Blas work co-operative, whereby people offer services, like plumbing and painting. The work that the group then gets is shared out among the members.
"It's not about changing the world. It's about changing San Blas," he says.
The images of hundreds of thousands of people camped out in Madrid's main square a year ago were beamed around the world.
On Spanish TV this week, debate programmes looked at 15-M's significance and what it had come to symbolise.
According to Arturo de Bonis, 55, the movement has "grown up" because, he believes, people realised that the protests were "not changing things".
At the meeting of nine people in San Blas, six were unemployed, two retired and just one had a job.
Many said they had attended the meeting for ideological reasons - they thought capitalism had failed.
But Vergona, 42, who has been out of a job for two years, said she was there to meet people and find opportunities to work.
At the anniversary of 15-M in central Madrid, Asunta Garcia argued that the movement was "something in the newspapers". She did not think it had changed the country in any big way.
This month the police in Madrid have turned out in large numbers to ensure that the protesters do not stay in the square beyond allotted periods, during which the authorities have agreed they can remain to hold their meetings.
There were some scuffles when police removed people from the square who had tried to out-stay their welcome. The police have been accused of being heavy-handed.
But what started as a sit-in demo has moved into something much more diverse - 15-M is now part of modern Spain.
Related Internet Links
The BBC is not responsible for the content of external sites.