Profile: French Prime Minister Jean-Marc Ayrault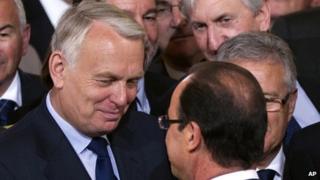 Jean-Marc Ayrault, 62, is a qualified German teacher and Mayor of Nantes. He is also a National Assembly deputy and long-time president of the Socialists' grouping in the assembly. Like President Hollande, he has not held ministerial office before.
Mr Ayrault is likely to have a greater say in formulating policy than some of his predecessors, as the president has indicated that he will leave day-to-day business to the government.
His contacts at European level, in particular his expertise on Germany, have already come in useful to Mr Hollande.
As a special adviser during the election campaign, he had the task of liaising with other European left-wing parties. Now, Mr Hollande will look to him to help find common ground with Chancellor Angela Merkel over reviving growth in the eurozone.
'Reserved'
Mr Ayrault was born on 25 January 1950 in the town of Maulevrier, some 40 miles from the northwestern city of Nantes.
The son of a textiles factory worker and a dressmaker, he became interested in politics as a student and stood in his first election at the age of 26. The following year he was elected mayor of the town of Saint-Herblain, an office he held for 11 years.
Mr Ayrault worked as a German teacher until he was elected to the National Assembly in 1986. At the age of 39, he became Mayor of Nantes, a position he still holds.
His administration is credited with the renaissance of the city - the sixth largest in France.
He married French teacher Brigitte Terrien in 1971. They have two children.
According to France 24 TV, he likes music, cycling and dancing. Reuters describes him as "reserved", "conciliatory" and "a long-time Hollande ally".
Embarrassment
Doubts have been raised over Mr Ayrault's qualification for high office. He "does not have the reputation of 'war leader' of the kind required to weather the present crisis", according to internet newsletter La Lettre A suggests.
It also highlighted sharp differences of opinion with Green politicians over a planned new airport north of Nantes - a problem that has been deferred by a two-year moratorium on the airport plan.
There is also the embarrassment of a six-month suspended sentence and a fine of around 4,500 euros incurred by Mr Ayrault 15 years ago and revealed by French media during Mr Hollande's election campaign.
This related to an improperly awarded printing contract for a local newspaper in Nantes which could have damaged his chances of becoming prime minister.
But Mr Ayrault said he had taken responsibility for the matter since he was mayor, not because he was personally involved.
"My personal integrity has never been questioned," he said.
"I am an honest man and I will remain an honest man."
BBC Monitoringselects and translates news from radio, television, press, news agencies and the internet from 150 countries in more than 70 languages. It is based in Caversham, UK, and has several bureaux abroad. For more reports from BBC Monitoring, click here