Breivik trial: Victim 'hid under body' to survive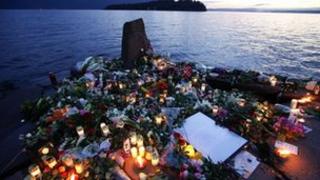 A teenager who survived Anders Breivik's attack on Utoeya island has told his trial in Oslo that she only lived because she hid under another victim's body.
Ingvild Leren Stensrud told the court of the "dreadful seconds" as she waited for Breivik to leave the cafe building where he had shot 13 people dead.
She then used the dead girl's phone to try to call emergency services.
Breivik admits the killings last July but denies criminal responsibility.
Addressing the court, Ingvild Stensrud, 17, explained that she had first heard shots on the island when she was walking to the main building to get her mobile phone charger.
She said she did not realise what the noise was, but when others started to run away, she did the same.
She ran into the cafe building and hid behind a piano. Breivik followed.
Stensrud told the court that she and another girl were both shot. When the girl fell on top of her, she stayed under her dead body until the sound of shooting stopped.
"These were dreadful seconds", she said, as the court saw pictures of the room where it happened.
When she eventually dared to look up, she saw two other survivors in the room.
Breivik showed no emotion as Stensrud explained that she had then taken a phone from the dead girl but was unable to get through to emergency services.
She had then called her mother and told her she had been shot, but hung up because she did not dare to speak any longer.
'Worst screaming'
On Tuesday, the court heard from survivor Ina Rangoenes Libak, who was shot four times in the head, chest and jaw, and who also hid behind the piano.
She explained that she had eventually run away down a corridor, and told the court she was thinking: "this is what it's like to die, I'm dying."
The Oslo court also heard from survivors who had hidden in a building known as the schoolhouse as Breivik carried out his rampage on the island.
Marta-Johanne Svendsen, who was shot in the arm, described hiding with others and hearing twigs snap as Breivik tried to get to them.
She told the court she had heard "the worst screaming" as he carried out his attack.
Another survivor who wished to remain anonymous told how he swam to safety, but that his friend had drowned as he tried to do the same.
Anders Behring Breivik was apprehended by special police on the island. He admits the 69 killings on Utoeya, and eight more in a bomb attack in Oslo on 22 July 2011.
If the court decides he is criminally insane, the 33-year-old Norwegian will be committed to psychiatric care; if he is judged to be mentally stable, he will be jailed if found guilty.