Bringing back the punt - town cashes in on old currency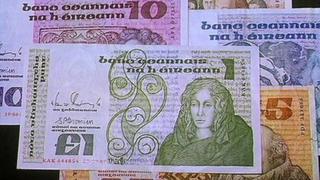 The old Irish pound or punt is back in the shops of an Ulster town.
In Clones, County Monaghan, in the Republic of Ireland, more than 40 businesses are accepting the old notes which were replaced by the euro 10 years ago.
While it is no longer legal tender, notes and coins can still be exchanged at Dublin's Central Bank.
And people in the town are scrabbling behind radiators and down the back of sofas to come up with the old notes.
There are more than 300m euro worth of Irish punts still out there in Ireland.
The idea to take in the punts was the brainchild of the Morgans - shopkeepers in Clones.
"It was actually my son's idea," said Tony Morgan.
"He heard about a Spanish fishing village which brought back the peseta and it seemed like a good idea.
"It is getting people into the town that have never set foot here before.
"And we are getting euro spend too."
The local Embrace the Punt campaign has caught the imagination at a time when Ireland is in the middle of a bleak recession with shops being forced to close.
When businesses accept the punt notes and coins, they give 'change' in the form of vouchers that can be spent in the town.
A spokesman for the Irish Central Bank said the punt ceased to be legal tender on 9 February 2002.
However, the bank has been acccepting old notes and coins from anyone who has them. It is a service they offer - people can come into the counter or post them.
At the end of 2010, he said 238m euros of Irish bank notes were still out there - this includes 125.5m euros worth of coins.