Spain rejects Eta talks request and demands disbandment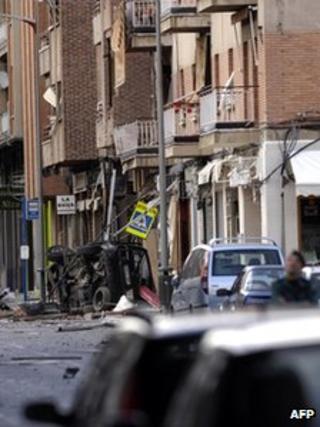 The Spanish government has rejected a request from the Basque militant group Eta for talks, seven months into its truce, and called on it to disband.
The separatist group had sent a message to the AFP news agency announcing it had set up a team to conduct a "direct dialogue" with Spain and France.
Eta called for a "definitive solution" to the "ongoing conflict".
But Interior Minister Jorge Fernandez Diaz said Spain would never negotiate with the group.
Eta's campaign of shooting and bombing lasted more than 40 years and left some 830 people dead.
In recent years, it suffered major reverses with the arrest of key members in Spain and France.
When it announced a "definitive end" to its armed campaign on 20 October, some 700 Eta members remained in prison.
'No need'
The statement sent to AFP, and addressed to "the European community", said Eta had "named a delegation to embark upon a direct dialogue with the governments of France and Spain".
"The European community and all European institutions face the challenge of supporting and promoting an open process aimed at finding a definitive solution to an ongoing conflict in the heart of Europe," it added.
Earlier this month, an independent monitoring group, the International Verification Commission, issued a report concluding that Eta was abiding by its ceasefire and was ready for dialogue.
Mr Fernandez Diaz told parliament in Madrid that the "only communication" expected of Eta was an announcement of its unconditional disbandment.
"There is no need for a dialogue to hand over weapons," the interior minister said.