French President Hollande names Socialist cabinet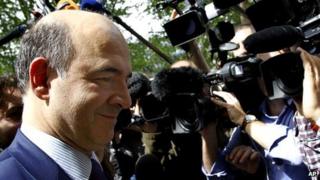 France's new President, Francois Hollande, has chosen a government that should in theory fulfil all the "rules" of French cabinet-making.
There is a proper mix of old-timers and up-and-comers, of left-wingers and right-wingers, of men and women, of southerners and northerners, of personal friends and party stalwarts.
The most important names are Pierre Moscovici at finance and Laurent Fabius at the foreign ministry.
Moderate
Mr Moscovici is a former European Affairs minister with a long list of contacts in Brussels, and a reputation as a moderate. He should reassure the markets.
"It's very important to have a chief at the finance ministry who has reliability and strength of character, and who can communicate," said Franz-Olivier Giesbert, editor of Le Point magazine.
"Moscovici speaks excellent English and this will be important in the demanding times that are ahead."
Mr Moscovici, who served as Mr Hollande's election campaign director, can be expected to take seriously the pledge to bring France's yawning deficit back under control.
Mr Hollande's manifesto said the deficit should be cut to 3% of GDP by 2013, although how this can be squared with other election promises - and with France's fast-deteriorating growth prospects - remains to be seen.
At the foreign ministry is a man who represents a more left-wing position on Europe, although in practice his influence in EU-related matters will be limited.
'Elephant'
Laurent Fabius was France's youngest ever prime minister back in the 1980s, and in more recent years emerged as a vocal critic of the EU's economic priorities.
In 2005, unlike most French Socialist leaders, he campaigned for a "no" vote in the referendum on the EU's constitutional treaty.
For some in Brussels, this is no doubt a black mark. But Francois Hollande can argue that today Mr Fabius represents what should be the emerging mainstream in Europe - one that stresses the need for growth over German-inspired austerity.
The appointment of Mr Fabius is interesting for other reasons. For one thing, he and Mr Hollande do not enjoy a happy relationship.
Mr Fabius was one of the senior party "elephants" who for many years pooh-poohed Hollande's pretensions to be a heavy-hitter. At one point he called him a "fraise des bois" - a wild strawberry - presumably because of his red cheeks.
The reason Mr Hollande chose to include such a man is that Mr Fabius still counts for much in the Socialist Party.
Like party chairwoman Martine Aubry, the disgraced Dominique Strauss-Kahn and the eternal Jack Lang, he is from the Socialist old guard, and carries a weight of experience and influence.
Mr Hollande needed one such figure in his government. Ms Aubry might have been the obvious choice. But she gets on with the new president even worse than Mr Fabius does, and refused to serve in any capacity other than prime minister.
Up-and-coming
One other person to watch is Armand Montebourg, promoted to government for the first time in a new ministry for "productive recovery".
It will be interesting to see how much power Mr Montebourg is allowed to wield, because he is a vocal champion of implementing EU-level protectionism in order to regenerate French industry.
Manuel Valls is a predicted appointment at the interior ministry. Spanish-born, he is mayor of the Paris suburb of Evry where he has witnessed at first hand many of the social problems of the "banlieues".
He is on the right wing of the party, and because of his no-nonsense policies on law and order, he was even approached as a possible minister by President Nicolas Sarkozy. He declined.
Scrupulously, President Hollande obeyed his own injunction to fill as many posts with women as with men, so there are jobs for Marisol Touraine at social affairs and Christiane Taubira at Justice.
Sceptics might point out that though numerical parity has been achieved, the most important posts are all the preserve of men.
'Challenging times'
According to Christophe Barbier, editor of L'Express magazine, the new government's task is two-fold.
"The first task is to win the legislative elections in June. To do that, they need to be professionals. There can be no stupid mess-ups, nothing that can derail a Socialist victory.
"The second task is more complex: it is learning to manage bad news.
"Hard times are coming, and it is obvious that large parts of Mr Hollande's manifesto are going to be dropped.
"Somehow communicating that, without saying it out loud, is going to take some doing. It is not for the faint of heart."