Lithuania reburial of WWII leader angers Jewish groups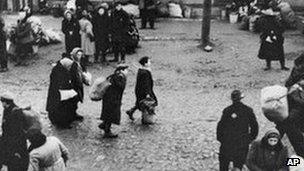 Jewish groups in Lithuania have condemned the government for financing the reburial of an ex-prime minister who headed the Baltic state in 1941.
Juozas Ambrazevicius Brazaitis came to power after Nazi Germany had ousted the Soviets from the country.
He later emigrated to the US where he died in 1974. Critics accuse Brazaitis of having been a Nazi collaborator.
They are angered by the decision to pay for his remains to be repatriated and buried in a four-day funeral event.
"Official institutions should not support this ceremony, as it discredits Lithuania in the eyes of the world," said Simonas Alperavicius, the leader of Lithuania's Jewish community.
"The Jews suffered from the policy of the provisional government which in fact supported the Nazis," he added.
Brazaitis ran a short-lived administration aimed at restoring Lithuanian sovereignty after Nazi Germany drove out Soviet troops in 1941, ending their year-long occupation.
A wave of anti-Semitic pogroms occurred under Brazaitis' administration, and Brazaitis signed an order to set up a concentration camp for Jews and establish a ghetto in Kaunas for the city's Jews.
Lithuania's centre-right government, however, is defending its decision to allocate 30,000 litas ($11,000) for the burial.
"To condemn Lithuania for paying tribute to Brazaitis, who, by the way, was also actively persecuted by the Nazis, is rather easy," said an adviser to Lithuanian Prime Minister Andrius Kubilius.
He noted that a 1975 investigation by US Immigration found no evidence of Brazaitis being involved in anti-Semitic or pro-Nazi activities.
The official also suggested the funeral would be "yet another reminder of the Holocaust tragedy in Lithuania" and "an opportunity of further reconciliation."
Between 1941 and 1944, up to 95% of Lithuania's 200,000-strong Jewish community died at the hands of the Nazis and local collaborators. Today, some 5,000 Jews live in the Baltic state, a 2004 EU entrant of three million people which broke from the Soviet Union in 1990.