Single suspect blamed for Brindisi bomb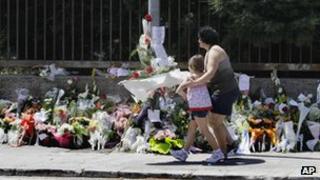 A bombing that killed a girl outside a school in southern Italy was probably carried out by a single person rather than the mafia, a senior official says.
The bomb went off as students were arriving at the school in Brindisi. Ten other people were wounded.
Chief prosecutor Marco Dinapoli said there was "significant" video evidence suggesting that one man had set off the device, but gave no further details.
Brindisi's mayor initially blamed the local mafia for Saturday's blast.
The suspicion was fuelled by the fact that the school is named after Judge Francesca Morvillo Falcone, a victim of a notorious Mafia bombing in Sicily in 1992.
But on Sunday, Mr Dinapoli said "the most probable hypothesis is that it was an isolated act".
He gave no details about the suspect and said investigators did not know what his motive had been.
Prime Minister Mario Monti, who was attending a G8 summit in the US at the time, said the bombing was a "tragic" and "criminal" act that was "without precedent".
The girl who died was named as 16-year-old Melissa Bassi. Brindisi residents have been paying their respects by leaving flowers at the site of the bombing.