Sicily honours murdered anti-Mafia campaigner, 60 years on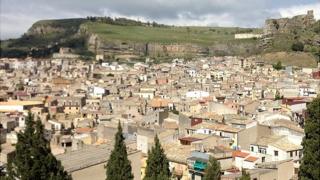 More than 60 years ago, union leader Placido Rizzotto was killed after standing up to the Mafia in his hometown of Corleone. After campaigning by friends and relatives, he is finally being given a state funeral.
One evening, way back in March 1948, Placido Rizzotto emerged from his office in a small town in Sicily.
He stopped briefly to chat outside a bar on the main street. Then he walked on into the night, and was never seen again.
But nobody had any doubt what had happened to him.
The union man lived and worked in the town of Corleone, which has given rise to some of the most ruthless leaders of the Sicilian Mafia.
The place would eventually be made infamous around the world as the hometown of the fictional gangster family in the movie The Godfather.
Placido Rizzotto had sided with local farm labourers in a confrontation with the mafiosi. He had challenged the gangsters in their heartland, and they had murdered him.
'Symbolic message'
But now, more than 60 years on, Italy is honouring this hero in the long fight against organised crime with a state funeral.
Italian President Giorgio Napolitano was in attendance to see him being buried in the place where he made his stand - in Corleone.
This is only possible because for decades Rizzotto's family and his union colleagues refused to forget his story.
They campaigned to persuade the authorities to search for and make as full a recovery of his remains as possible.
This was eventually done in 2009.
What was left of Rizzotto's body was retrieved from the place where it was dumped all those years ago in a remote stretch of countryside, several kilometres from Corleone.
And just recently, DNA testing confirmed the identity of the remains. So now at last a proper burial can go ahead.
"The Mafia wanted to send a symbolic message," said Dino Paternostro, who is the current head of the Corleone branch of the CGIL union - the job that Rizzotto had when he was murdered.
"Not only were they killing Placido Rizzotto, but they were making him vanish - erasing him."
'Winds of change'
The state funeral, however, will help ensure that he will be remembered.
"The mafiosi didn't succeed in their objective of erasing Placido Rizzotto," said Mr Paternostro.
His death came during a turbulent period in southern Italy in the years just after World War II.
Rizzotto had come home to Sicily after joining the Resistance to fight Fascism in the north of the country.
And back in Corleone, in keeping with his Socialist principles and union activism, he was soon drawn into the fight for the rights of the area's farm workers, and rural poor.
At the time they were pitted against both the land owners and mafiosi interests.
And at one point Rizzotto had helped organise an attempt by labourers to occupy fields that were controlled by the gangsters.
His successor, Mr Paternostro, has studied the events of the period closely.
And he sees the murder in 1948 as part of a Mafia offensive against what he calls the liberalising and democratising "winds of change" that were starting to blow through post-War Sicily.
'Other feelings'
Nobody has done more to preserve Rizzotto's memory than his nephew, who was also named Placido Rizzotto in the dead man's honour.
"Every time my grandmother spoke about my uncle - even if it was 20 years later - she would cry," he said.
"I saw the pain of a mother who did not have her son. His burial means a lot to me.
"It is said that the mafia has a good memory: that they never forget. If someone does them wrong, they don't forget and sooner or later, they will make you pay.
"Well, I say that the Rizzotto family also has a long memory. And even if 64 years have passed, we have not forgotten."
How did he think members of Mafia families still in Corleone would regard the state funeral? Was it possible that they might even feel some sense of shame?
Rizzotto's nephew replied that shame was not part of the mafiosi mindset.
"They have other feelings," he said. "Shame can be a positive feeling. I don't think the Mafia has positive feelings."
Rizzotto vintage
But Placido Rizzotto's state funeral is of course much more than just a family affair. It is being seen as symbolically important for the town too.
"Over the years the people of Corleone have been followed by a less than enviable reputation," Mr Paternostro said.
"They thought we were all mafiosi, or friends of mafiosi, or dominated by the Mafia."
He hopes the Placido Rizzotto story will help redress those perceptions.
Mr Paternostro said it showed that while the Mafia had indeed always been present in Corleone, it has also been home to those who oppose the gangsters.
Brave anti-Mafia activism has played a part in the town's story.
And even now, the courage that Placido Rizzotto showed can still be an inspiration.
Not far from Corleone, in the rolling hills of western Sicily, there is a farming co-operative set up on land confiscated from the Mafia.
Its workers, who initially endured threats from the gangsters, chose to call their new vineyards after Placido Rizzotto.
Every bottle of wine that they produce bears his name.