Putin's new Russian government full of old faces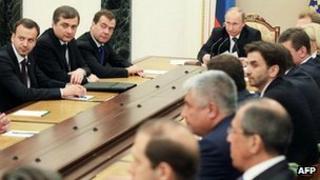 Russia's President Vladimir Putin has unveiled his new government, relying on many established faces.
Three top Putin allies - Foreign Minister Sergey Lavrov, Defence Minister Anatoly Serdyukov and First Deputy Prime Minister Igor Shuvalov - have kept their jobs.
Analysts say Mr Putin will also keep a tight rein on economic policy, keeping Anton Siluanov as finance minister.
The most high-profile casualty was the Interior Minister, Rashid Nurgaliyev.
He became very unpopular with the public after a series of police abuse scandals.
He will be replaced by Moscow police chief Vladimir Kolokoltsev.
Although many top posts remain in the hands of Putin loyalists, some more liberal politicians linked to Prime Minister Dmitry Medvedev have been promoted.
His important ally, Arkady Dvorkovich, has been given one of the seven deputy prime minister posts
The BBC's Moscow correspondent Daniel Sandford said the only really significant change was the absence of Igor Sechin, the former KGB officer who masterminded Russia's energy policy.
He has left politics, but only for a key post in the energy sector, where he will remain influential, our correspondent says.