Italy earthquake: Monti prepares for state of emergency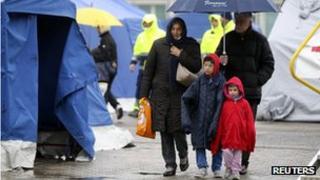 Italians have begun assessing the damage to one of their most historic regions, a day after seven people were killed in a 6.0 magnitude earthquake.
Cultural sites have been left in ruins, almost 5,000 people have fled their homes and the mayor of one northern town has appealed for urgent help.
The government has said it expects to declare a state of emergency.
Farmers say they have suffered big losses because of damage to 300,000 Parmesan and Grana Padano cheeses.
Culture Minister Lorenzo Ornaghi says it is too early to give a full assessment of the damage from the quake but a list of heritage sites affected in the Emilia Romagna region is being drawn up. He said the cultural cost was "considerable".
Prime Minister Mario Monti cut short his visit to the Nato summit in Chicago and may visit the region late on Monday. Italy's national government is expected to declare a state of emergency at a meeting on Tuesday.
Mr Monti's cabinet undersecretary Antonio Catricala said the prime minister did not intend to leave the situation in the hands of the local authorities.
He said the state of emergency would enable the release of financial aid both to companies and individuals. "The government will not abandon Emilia," he said.
Night-shift workers
The quake struck at 0405 local time (0205 GMT) north of Bologna and between the towns of Finale Emilia, San Felice sul Panaro and Sermide. The three provinces of Modena, Ferrara and Bologna were affected.
The tremor left only the left-hand side of Finale Emilia's picturesque clock tower standing. That too was later reduced to rubble by a 5.1-magnitude aftershock.
The town's mayor, Fernando Ferioli, has appealed for help from both the regional and national authorities.
Four of the seven people who died were night-shift workers whose factories collapsed. Two had been working at a ceramics factory. Prosecutors are looking into the circumstances behind the deaths.
Two of the other victims were women who had both died of shock, reports said. One was a German woman in her thirties.
Dozens more were injured and rescue efforts were hampered by wet and windy conditions.
As well as the human cost, the region of Emilia Romagna was having to come to terms with the loss of centuries of history.
The roof collapsed at a 16th-Century chapel in San Carlo, wiping out eight years of restoration work.
The 14th-Century La Rocca castle at San Felice sul Panaro was in ruins. It was the town's biggest tourist attraction.
San Felice's three main churches were also reduced to rubble.
Civil protection officials spent much of Monday inspecting buildings including schools, homes, businesses and churches for structural damage.
Small aftershocks continued to affect the area. The number of people who have fled their homes for shelter in school gyms, tent camps and cars has been put at almost 5,000.
Farmers' group Coldiretti said that at least 300,000 rounds of hard cheese had been damaged, at a cost of hundreds of millions of euros. The region is renowned for its Parmesan and Gran Padano cheeses.