Breivik trial: Lake 'red with blood' after Utoeya massacre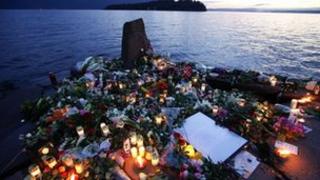 A 20-year-old survivor of Anders Behring Breivik's attack on Utoeya island has told his trial that the lake waters around the island were red with blood after the shooting rampage.
The witness, Hussein Kazemi, described to the Oslo court how he came face-to-face with Breivik during the attacks, and even briefly spoke to him.
He said he escaped by leaping into the lake, despite being unable to swim.
Breivik admits the massacre last July but denies criminal responsibility.
He killed 69 people at the Labour Party youth event on Utoeya island before being arrested by special police.
Mr Kazemi, who came to Norway from his native Afghanistan in 2009, told the court on Monday that after fleeing the shootings at the main camp site, he encountered Breivik, dressed in a fake police uniform and carrying a machine-gun, at the southern tip of the island.
He said Breivik - who was still posing as a policeman - had asked him in a "nice and calm voice" whether he had seen the gunman, and that he had responded "yes".
Eye contact
"I remember at the time I got eye contact with the perpetrator. He was very close," he said. "So I remember just throwing myself into the water."
Mr Kazemi said that despite having very little training in swimming and being shot three times in the leg by Breivik, he managed to shelter behind a lakeside rock.
"For the first time in my life, I was afraid," he said, describing how he could he hear bullets bouncing off the rock as Breivik continued to fire on him.
He said he only emerged onto land from behind the rock when he thought the attacks were over.
"There, I saw all the dead. The water was completely red."
Another witness to testify on Monday, Martha Fevang Smith, 18, told the court how she survived being shot in the head while 10 others were killed around her as they lay on the ground.
"Breivik comes to where we are lying and begins to shoot us one by one, with a few seconds in between each shot, until he hits me. Then it all went completely black," she said.
She said her best friend had died next to her as they held hands.
Later, the court heard a recording of a desperate emergency call made by a third witness, Renate Taarnes, as she hid in a toilet in the camp's cafe while Breivik shot 13 people in the same building.
Before hiding, she had witnessed Breivik shoot her boyfriend, she said.
Anders Behring Breivik, 33, admits the 69 killings on Utoeya, as well as eight in a bomb attack in Oslo earlier on 22 July 2011.
If Breivik is found guilty and the court decides he is criminally insane, the 33-year-old Norwegian will be committed to psychiatric care; if he is judged to be mentally stable, he will be jailed.