Mladic trial: More than 400 to testify for prosecution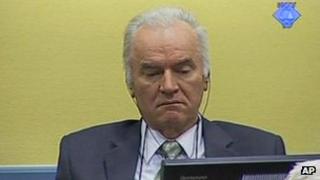 Prosecutors at the trial of former Bosnian Serb commander Ratko Mladic will call over 400 witnesses, according to a list published on Tuesday.
Gen Mladic faces 11 charges of crimes against humanity over the 1992-95 Bosnian war, which he denies.
The prosecution's witness list includes survivors, journalists and foreign military personnel.
On Monday, prosecutors apologised for failing to hand evidence to the defence, delaying the trial.
Several survivors of massacres committed during the war are expected to testify at the Hague trial about conditions in Bosnian Serb death camps, including regular beatings and killings of prisoners.
About 150 of those called by prosecutors will appear in court in person. The remainder will submit written statements.
Among those testifying will be a member of the battalion of Dutch peacekeepers in the Bosnian town of Srebrenica, Eelco Koster, who witnessed the arrival of thousands of Bosnian Muslim (Bosniak) refugees at the UN base in the suburb of Potocari.
Gen Mladic is accused of orchestrating the massacre of more than 7,000 Muslims in Srebrenica.
Mr Koster is expected to tell the court about a conversation he had with Gen Mladic in which the Bosnian Serb war leader warns of trouble if the Dutch do not co-operate by allowing the Serb forces to load the Muslim refugees onto buses and take them away.
Other prosecution witnesses include a police officer who survived the massacre of more than 100 men at a school in the village of Velagici. There will also be the head of the British armed forces, Sir Richard Dannatt, who will testify about issues of military command.
Delay
Last Thursday, the trial was postponed indefinitely on its second day because prosecutors did not hand over about 7,000 pages of evidence to Gen Mladic's lawyers.
The mistake could delay the trial by up to six months.
In a statement on Monday, the prosecution acknowledged the error, saying documents had gone missing on a database.
But it also said defence lawyers were told about the omission nearly a week before the trial was adjourned, and that it only affected a total of 4% of the evidence.