'Killer bride' seized at banquet in Udmurtia, Russia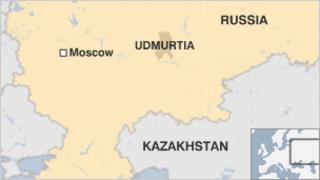 Police in the Russian Urals region of Udmurtia have arrested a woman at her wedding reception hours after she allegedly kicked a man to death.
Yekaterina M, 22, was charged with the manslaughter of a man from her village, 45, whom she allegedly assaulted because he owed her money.
She set about kicking him under the windows of her own house, leaving him to die in the street, prosecutors say.
Her drunken fiance allegedly looked on during the attack.
The couple had known each other for a long time and had fixed their date at the registry office well in advance, according to prosecutors in Udmurtia's Zavyalovsky District.
On the eve of their wedding, they had been drinking spirits when the victim, a mutual acquaintance, called to see them.
A row developed over the unpaid debt, leading the woman to attack him, prosecutors said.
News that his body had been found by other villagers the following morning did not deter the couple from going to the registry office, they added.
The new bride was arrested at her wedding banquet.
If convicted, she faces between five and 15 years in prison.