Polish taxi drivers threaten Euro 2012 disruption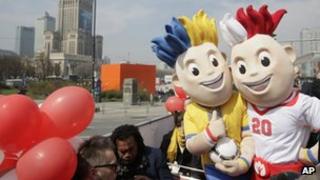 Taxi drivers have brought several Polish cities to a standstill in a protest over government permits.
The drivers say they will hold further protests during the Euro 2012 football tournament next month if their demands are not met.
Poland's government wants to liberalise the regulations governing several business sectors, including taxis.
The drivers say this is a threat to their livelihoods, and blocked streets in Warsaw, Wroclaw and Gdansk.
The main protest, in the capital, saw several main roads and bridges blocked through Wednesday morning, and ended in the afternoon in front of the parliament building.
The government of Prime Minister Donald Tusk has antagonised unions with his drive to liberalise the economy.
A number have already said that they might use the Euro 2012 tournament - which Poland is co-hosting with Ukraine - to further their causes.
But there is still hope that may be averted. One of the organisers of Wednesday's action told the Reuters news agency: "We are all football fans - so it really would be a last resort."