Norway: Rare strike by state workers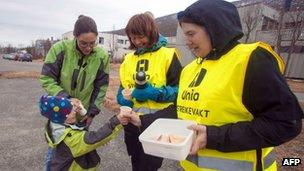 Tens of thousands of public sector workers have gone on strike in Norway, in a dispute over pay - the first walk-out by state employees since 1984.
Schools, kindergartens and prisons were all affected as up to 30,000 local and national government workers walked out.
The strike hit the cities of Tromsoe, Bergen and Trondheim although talks were continuing in the capital, Oslo.
The unions want pay rises of more than 4%, arguing wages are not keeping pace with the private sector.
They are also seeking improvements to working conditions.
A number of other public services were hit on Thursday, including nursing homes, tax offices and the police force. But police said the Breivik murder trial in Oslo would not be affected.
The action also affected Norway's meteorological institute, but only branches in the west, along the Atlantic coast, and in the centre of the country. It meant that TV weather charts lacked information for parts of Norway on what was a largely sunny day.
Unlike other European economies, Norway's has continued to grow, buoyed by its oil wealth. Growth for the first three months of 2012 reached 1.4% with a government projection of 3.75% for the whole year.
The government has called for wage restraint, warning that the economy risks overheating.
"We were surprised there was no acceptance for our offer and I'm sorry about it," Administration Minister Rigmor Aasrud told Norwegian broadcaster NRK on Thursday.
She said the pay rise amounted to an extra 20,000 kroner (2,600 euros; £2,100) for a senior woman state employee per year.
But Arne Johannessen of the Unio trade union accused Norway's left-of-centre government of being "unprofessional" in its negotiations.
If a deal is not reached, the strike could spread to more of the country's 600,000 public sector workers.
Unio and two other unions, LO and YS, broke off negotiations with the state mediator, Norwegian media reported, but a fourth, Akademikerne - representing professional associations - was still involved in talks.
LO, Norway's main union, said the state and local governments had rejected "fair demands for wage development on a par with the rest of the workforce."
Related Internet Links
The BBC is not responsible for the content of external sites.