Chechnya profile - Timeline
1858 - After decades of violent resistance, Chechnya is conquered by Russia following the defeat of Imam Shamil and his fighters, who had aimed to establish an Islamic state.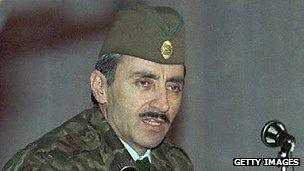 1922 - Chechen autonomous region established; becomes the Chechen-Ingush Autonomous Soviet Socialist Republic in 1934.
1944 - Soviet dictator Stalin deports the entire Chechen and Ingush populations to Siberia and Central Asia, citing alleged collaboration with Nazi Germany. Many thousands die in the process.
1957 - Soviet leader Nikita Khruschev allows Chechens back to the Caucasus, restores the Chechen-Ingush Autonomous Soviet Socialist Republic.
1991 - Collapse of the Soviet Union. Communist leader Doku Zavgayev overthrown; Dzhokhar Dudayev wins a presidential poll and proclaims Chechnya independent of Russia.
1992 - Chechnya adopts a constitution defining it as an independent, secular state governed by a president and parliament.
1994 December - Russian troops enter Chechnya to quash the independence movement. Up to 100,000 people - many of them civilians - are estimated killed in the 20-month war that follows.
1995 June - Chechen rebels seize hundreds of hostages at a hospital in Budennovsk, southern Russia. More than 100 are killed in the raid and in an unsuccessful Russian commando operation.
1996 April - Dzokhar Dudayev killed in a Russian missile attack; Zemlikhan Yandarbiyev succeeds him.
1996 August - Chechen rebels launch a successful attack on Grozny; Russian military leaders and Chechen rebels sign the Khasavyurt ceasefire accords, followed by an agreement on a Russian troop withdrawal in November.
1997 January - Russia recognises Aslan Maskhadov's government following his victory in Chechen presidential elections.
1997 May - Yeltsin and Maskhadov sign a formal peace treaty, but the issue of independence is not resolved.
1998 May - Valentin Vlasov, Russia's presidential representative in Chechnya, is kidnapped and held for six months.
1998 June - Amid growing lawlessness, Maskhadov imposes state of emergency.
1999 March - Moscow's top envoy to Chechnya, General Gennadiy Shpigun, is kidnapped from the airport in Grozny. His corpse is found in Chechnya in March 2000.
1999 January/February - Maskhadov announces that Islamic religious law will be phased in over three years.
1999 July/August - Chechen fighters clash with Russian troops on the Chechnya-Dagestan border; Chechen rebels carry out armed incursions into Dagestan in an attempt to create an Islamic state.Second war
1999 September - The authorities blame a series of apartment block bombings on Chechen rebels, and launch the second Chechen war.
2000 February - Russian troops capture Grozny; much of the city is razed.
2000 May - President Putin declares direct rule from Moscow.
2000 June - Russia appoints separatist-turned-loyalist Akhmat Kadyrov head of its administration in Chechnya.
2002 October - Chechen rebels seize a Moscow theatre and hold about 800 people hostage. Most of the rebels and some 120 hostages are killed when Russian forces pump in narcotic gas and storm the building.
2003 March - A referendum approves a new constitution stipulating that Chechnya is part of the Russian Federation.
2003 October - Akhmat Kadyrov is elected president.
2004 May - President Kadyrov and many others are killed in a Grozny bomb blast, claimed by rebel warlord Shamil Basayev.
2004 September - Hundreds are killed or wounded - many of them children - in the Beslan school siege in North Ossetia, ordered by Shamil Basayev but denounced by Chechen rebel leader Maskhadov.
2004 October - Kremlin-backed former Interior Minister Alu Alkhanov is sworn in as president following August elections.
2005 February - Separatist leader Aslan Maskhadov calls a ceasefire and urges peace talks, but the the pro-Moscow Chechen leadership dismisses his overtures.
2005 March - Maskhadov dies in clash with Russian forces.
2005 May - Maskhadov's successor, Abdul-Khalim Saydullayev, signals end to policy of seeking peace talks with Moscow and decrees organisation of the Caucasus Front in apparent bid to widen conflict with Russia.
2005 October - Chechen warlord Shamil Basayev says he commanded a major assault in Nalchik, capital of the North Caucasus Republic of Kabardino-Balkaria, that leaves dozens dead.
2005 November - Tight security in place for regional parliamentary elections regarded by Moscow as important for normalisation but by separatist forces as a charade. More than 50% of the seats are won by Kremlin-backed United Russia.
2006 March - Ramzan Kadyrov - son of the late leader Akhmad Kadyrov - becomes prime minister after Sergey Abramov resigns.
2006 June - Separatist leader Abdul-Khalim Saydullayev killed by government forces. He is succeeded by Doku Umarov.
2006 July - Warlord Shamil Basayev is killed in neighbouring Ingushetia.
2007 February/March - Russia replaces President Alu Alkhanov with Ramzan Kadyrov.
2009 April - Russia declares the nearly decade-old operation against rebels to be over, a month after President Medvedev said life in the republic had "normalised to a large degree".
2009 July - Russian human rights activist Natalia Estemirova, who had been investigating alleged abuses by government-backed militias in Chechnya, is abducted and killed.
2010 April - Rebel leader Doku Umarov claims responsibility for deadly suicide attacks on Moscow Metro in March.
2011 February - Doku Umarov claims responsibility for a deadly suicide attack on Moscow's Domodedovo airport in January that left dozens dead. He says in a video posted online that the attack was a response to "Russian crimes in the Caucasus".
2014 March - Umarov is killed in a clash with Russian security forces, and is succeeded by Ali Abu Mohammed (Aliaskhab Kebekov) as leader of the Caucasus Emirate.
2015 February - Five Chechens, - one with ties to Kadyrov's security forces - are arrested over the murder of Russian opposition politician Boris Nemtsov in Moscow.
2015 June - The Islamic State group accepts a pledge of allegiance by militants in Chechnya and Dagestan.
2015 August - Caucasus Emirate leader Abu Usman Gimrinsky (Magomed Suleymanov) is killed by Russian security forces - a fate met by his predecessor Kebekov in April.
2017 April - Gay rights activists in Russia say they are organising the evacuation of gay men facing persecution, torture and even death in Chechnya. Kadyrov denies the allegations, saying there are no gay people in Chechnya.
2017 December - The US says it has imposed financial sanctions on Kadyrov, accusing him of a systematic campaign of repression.