Breivik trial: Police describe Utoeya arrest drama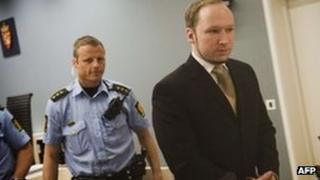 Norwegian police have been describing the dramatic moments of Anders Behring Breivik's arrest after he shot dead 69 people on Utoeya island last July.
Breivik was unmoved by the killings, and his first request was for a plaster for a minor cut, a court in Oslo heard.
Earlier, a survivor told how he was spared because Breivik mistook him for a fellow right-wing extremist.
Breivik, who also killed eight people in Oslo, admits the two attacks but denies criminal responsibility.
During the trial, he has been arguing that he was defending Norway from multiculturalism.
The 33-year-old wants to be declared sane to prove he had rational, ideological motives.
If deemed sane, Breivik will be sent to prison. If not, he will be held in a psychiatric institution.
'Bodybuilder pose'
On Friday, several police officers revealed in court details of Breivik's arrest on 22 July 2011.
As they arrived on the island, police superintendent Haavard Gaasbakk described the terror of young Utoeya survivors who had mistaken the arrival of police for Breivik's fellow gunmen.
One youth shouted "Papa!" as he tried to escape, Mr Gaasbakk said.
As they detained Breivik, the police superintendent said the killer's main concern seemed to be blood loss from his cut index finger.
"I said: 'You'll get no band aid from me.' Look around - dead and wounded people are lying everywhere," Mr Gaasbakk said.
He also recalled that the gunman said: "You are not the ones I am targeting. I consider you as brothers. It's a coup: I must save Norway from Islamisation."
Another police officer, Oerjan Tombre, told the court that Breivik, stripped of his fake police uniform, posed like "a bodybuilder" as they prepared to take pictures of him.
He also spoke of Breivik's concern for his finger-wound and his fear of dehydration. The self-confessed mass killer was eventually given a sticking plaster and a drink.
Breivik's 'mistake'
Earlier on Friday, the court heard testimony from the only adult survivor spared by Breivik on Utoeya.
Adrian Pracon, 22, said he had come face-to-face with the killer after his failed attempt to swim to safety.
Standing knee-deep in the water and with nowhere to hide, Mr Pracon said he had begged Breivik not to shoot.
Breivik first raised his weapon and took aim, but then suddenly turned and started shooting other people, the survivor said.
During the trial, Breivik had revealed that he did not shoot Mr Pracon because he reminded him of himself as a boy and because he looked like a right-winger.
"Breivik made a mistake when he spared me," Mr Pracon told the court.
"Now I realise how fragile society is, how society is, how much it's worth, and how important it is with politics."
Later that summer day, however, Breivik returned and shot Mr Pracon in the shoulder as he pretended to be dead at another spot of the island.
The trial is expected to last until the end of June.
The first of two contradictory psychological evaluations judged Breivik to be suffering from paranoid schizophrenia and legally insane. The second found him to be accountable for his actions.
If found both guilty and sane, Breivik faces up to 21 years in prison.