Two die in Cavan motor rally accident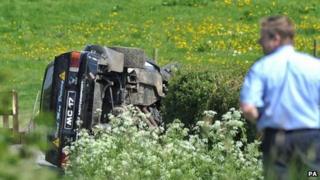 A man in his 40s and a woman in her 30s have been killed in an accident at a motor rally in the Republic of Ireland.
It is understood one of the vehicles lost control and crashed into a fence outside a house near Bailieborough, County Cavan, where some spectators were standing.
At least seven other people were injured in the accident, which happened at about 11:30 BST on Sunday.
Racing at the Cavan Stages Rally was suspended following the crash.
All of those injured, including the driver of the car, have been brought to Cavan General Hospital. None of their injuries are believed to be life-threatening.
It is believed the man who died was a photographer.
Matthew McMahon, who was at the scene, said: "All I saw was the car go over the crest then I heard the skid and people screaming.
"All hell broke loose, basically - people were crying and you could see something serious had happened."
An investigation by Irish police into the crash has begun.