Ingenuity and allotments provide relief in Greece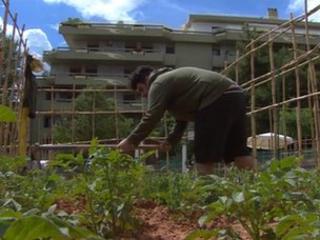 With characteristic passion, Greeks have protested loudly, in street demonstration after street demonstration, against the economic mess their country is in and the brutal austerity measures imposed in an attempt to balance the nation's books.
But the social situation has only worsened, the demonstrators - still incensed - feel ignored and many Greeks are now unrolling a quiet revolution.
Tucked away in a side-street of Marousi, a hilly, green suburb of northern Athens, you come across the local garden initiative.
Marousi's mayor has transformed the land from a derelict dumping ground into small allotments for 40 families battered by the current economic climate.
The sound of raking and digging fills the air.
What, at first glance, may simply look like a healthy hobby is actually a lifeline for people in this community.
Sowing seeds
Argyro Papazoglou and her husband Niko are pensioners. They tell me they worked hard all their lives but have now seen their state pensions drastically reduced.
"We had to do something," Argyro said. The allotment, she explains, provides them with 50% of their food needs, allowing them to make much-needed savings on supermarket bills.
The Marousi allotment project is one of a growing number of examples in Greece where people have pretty much given up asking for help from outside - whether from their national government or the EU.
Instead, they are taking matters in to their own hands and finding ways to help themselves, their neighbours and their local community.
As well as feeding themselves, all the families working on the allotment hand over a chunk of their produce to others in need.
The fruits and vegetables are passed on to what Greeks have dubbed a "social supermarket". It is an idea catching on all over Greece.
Some of these supermarkets are supported by the state but a growing number of private initiatives stack the shelves with goods - from oranges to olive oil to nappies - donated by individuals or companies.
Ray of light
Social supermarkets allow low income families to shop at cut-down prices.
The money they pay is then used to provide the most destitute with goods for free, even helping them with gas and electricity bills.
Greece's Child and Family group supports more than 4,500 families and has a growing army of voluntary aid workers, doctors and dentists.
Roubini Terzaki, the group's forthright founder, told me she wants to create a "people power" mentality in Greece, where the residents of every neighbourhood support one another, thus breaking their dependency on politicians and the financial system.
"That kind of attitude isn't just needed in Greece but all over Europe these days," she said.
Mrs Terzaki says she has been shocked by the rapidly increasingly number of families coming to her group for help.
Families that, otherwise, could not afford to keep their children at home with them.
Greece's community initiatives are a ray of light in extremely gloomy times.
Maria Voyatzologo's three young children run to hug the volunteers bringing them their weekly food parcel, whooping with delight when they discover crayons and paints amongst the groceries.
The expression on their mother's face is a painful mixture of gratitude and shame.
Maria cries as she tells me that she does her best to shield her little ones from the desperation of their situation.
They will need these hand-outs for a good while to come - for as long as Maria, like so many in Greece, find themselves unemployed, abandoned by a crippled state and reliant on their neighbours.