How Italy has reacted to the latest match-fixing arrests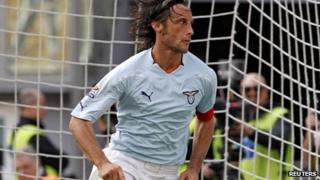 Everyone watching Italy's growing match-fixing scandal expected more clubs and players to be drawn into the investigation.
And now the inquiry has indeed widened and gathered momentum with a series of dawn raids and a number of arrests.
Figures at the heart of the Italian game have been implicated.
Stefano Mauri, the captain of Lazio, one the country's biggest clubs, has been arrested.
Less than a fortnight after it won Italy's Serie A title, Juventus has been touched by the scandal. Its trainer, Antonio Conte, has been put under investigation.
And as the national squad prepares for the Euro 2012 Championship, the police called at its training camp to tell the defender, Domenico Criscito, that he too is being investigated.
Reaction has been scathing in the columns of one of the main newspapers, La Repubblica.
Fabrizio Bocca writes that the scale of the scandal "goes beyond what anyone could have imagined".
He calls for the resignation of leading officials in the Italian game, charging them with never having done enough to keep it clean.
"These are not sporadic or isolated acts," he writes. "They are continuous and organised."
Nothing has been proven yet against any of those arrested on Monday, but some Lazio supporters have already expressed their outrage at their skipper's detention.
"I used to adore you," says one fan of the club's captain on a Facebook page. "But you've ruined our team now."
Another supporter is more measured, but still appalled by news of the arrest: "I hope that he is proved innocent. I suffer, I believe in him.
"I feel betrayed, in pain, angry, furious, but it is the betrayal that hurts the most. For Lazio, this is too much."
Another fan says he wants to see hard evidence that Stefano Mauri has done anything wrong; not just what he calls allegations arising from "conversations in a bar".
Own goal
This inquiry is all about figures in the game allegedly colluding with underworld betting interests in Italy and abroad; players and coaches allegedly fixing games either for personal gain, or perhaps in some cases because they came under pressure from gangsters.
A classic example of the problem surfaced some weeks ago.
As the inquiry unfolded, TV news channels showed archive footage of a defender for the southern club Bari scoring an own goal in a game last year.
The player, Andrea Masiello, collapsed to the ground with his head in his hands, apparently horrified at his blunder.
But it was being widely reported that after being arrested just recently, he had confessed to deliberately sticking the ball in his own net in return for hundreds of thousands of euros.
With more clubs and players being drawn into the inquiry, Italian football is on course for a summer of allegations and revelations that will lead to criminal court cases, and football federation disciplinary proceedings.
The big question now is just how damaging all this might be to the game here as a whole, and to its image as a brand abroad.
Precedents
But Italian football has been here before.
Serie A club Juventus was relegated to the second division for involvement in match-fixing in 2006.
Lazio and Fiorentina were implicated too but won an appeal against relegation and were allowed to stay in Serie A.
And in the aftermath of that affair, there was no sign that fans had turned away from the stadiums in disgust in any significant numbers.
They hate the scandals that devalue the game, but clearly believe the sport remains worth watching.
A young Bari fan, Giuseppe Posca, perhaps spoke for many when he told the BBC recently he was still convinced most players here were honest.
"The vast majority of games are clean," he said.
He accepted Italian football had a problem with match-fixing, but said he believed other leagues did too.
At least Italy is confronting the issue.
The academic, Simon Martin, teaches at the University of Rome, and has written extensively about Italy as seen through the country's passion for sport.
And he argues that at least part of the reason why corruption endures in football here is that, in the past, punishments for match-fixing have been too light - and too readily reduced on appeal.
"No-one pays for these crimes," he said.
"And if crimes don't have to be paid for, then in some ways you can understand why a footballer might want to take that potentially life-changing opportunity because, at the worst, he's going to get a two-year ban, which he can appeal."