Vatican leak inquiry: 'No cardinals involved'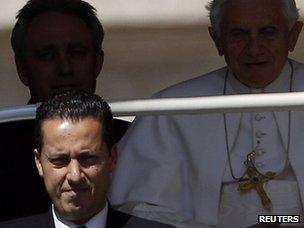 The Vatican has denied reports in the Italian press that a cardinal is among those being investigated as part of its inquiry into a series of media leaks.
Vatican spokesman Federico Lombardi said that no cardinal was suspected of involvement.
The Pope's butler, 46-year-old Paolo Gabriele, has been charged in connection with the leaks.
His lawyer said that he had pledged "full co-operation" with the investigation.
Italian media reports suggest that the butler had not acted alone, but was part of a group of 20 or so whistleblowers, led by a cardinal.
"The real brains are the cardinals. Then there are the monsignors, secretaries and smaller fry," one anonymous source, who claimed to have leaked Vatican documents, told Italy's La Repubblica newspaper.
The series of leaks, dubbed Vatileaks, has revealed alleged corruption, mismanagement and internal conflicts in the Holy See.
But Federico Lombardi said the allegations involving cardinals were false.
"I categorically deny that any cardinal, Italian or otherwise, is a suspect," he said.
He added that the Pope was following the case closely but calmly and that the Vatican would not allow the fierce media interest in the case to rush the investigation.
He also said that rumours of an internal power struggle had been greatly exaggerated.
Last month, Pope Benedict XVI set up a special commission of cardinals to find the source of the confidential memos.
A lawyer for Mr Gabriele, who had served as the Pope's personal valet from 2006, said his client would "respond to all the questions and will collaborate with investigators".
Mr Gabriele was one of very few laymen to have access to the Pope's private apartments.
He lives with his wife and three children in a flat within the Vatican walls, where a stash of confidential documents was discovered.
The scandal exploded last week when, within a few days, the head of the Vatican's own bank was abruptly dismissed, Mr Gabriele was arrested and a book was published with reproductions of the Pope's private correspondence.