Denmark arrests in 'terror plot'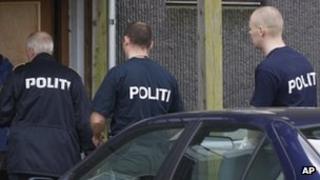 Two men suspected of planning a terrorist attack have been arrested in Denmark, the Danish Security and Intelligence Service (PET) says.
The men, who are brothers with suspected links to a militant Islamist group in Somalia, were arrested late on Monday night.
One was arrested in the city of Aarhus, the other was apprehended at Copenhagen airport as he returned to the country.
PET says the arrests "have prevented a specific act of terrorism".
The men are Danish citizens of Somali origin, aged 18 and 23, and have lived in Aarhus for 16 years.
PET says the detainees had discussed the method, the target and the weapon types that would be used in an attack.
It says one of the brothers had attended a training camp with al-Shabab militants in Somalia.
"A specific act of terrorism has been averted, and as such the perceived threat level against Denmark is not affected, although it remains high," PET said in a statement.
The men will appear in court on Tuesday, charged with offences under the Danish criminal code.
Cartoon revenge
Denmark has been targeted by a number of alleged plots with an Islamist motive.
Last month three men were arrested in Copenhagen on suspicion of plotting an "act of terror".
Meanwhile, four men are being tried for allegedly plotting a shooting rampage at the offices of the newspaper Jyllands-Posten.
The paper sparked outrage in some quarters when in 2005 it published cartoons of the Prophet Muhammad.
Its property or staff have since been the targets of several attempted revenge attacks.