Italy earthquake tremors felt at Republic of Ireland base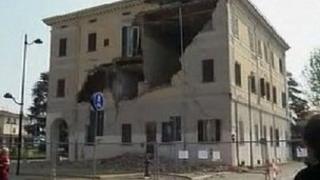 Tremors from an earthquake in northern Italy have been felt in the town where the Republic of Ireland football squad is based ahead of Euro 2012.
At least 10 people have been killed and several others buried under rubble in the neighbouring Emilia Romagnon area.
Tuesday's tremor was estimated at 5.8 magnitude and was centred near Modena in the Emilia region, where a quake 10 days ago killed seven people.
The Republic are currently based in the town of Montecatini in Tuscany.
The Football Association of Ireland said: "Tremors were felt in Montecatini. Nothing was noticed on the ground floor of the team hotel.
"However, some light movement was experienced in the higher levels. Everything is fine in camp.
"The thoughts and prayers of Giovanni (Trapattoni), Marco (Tardelli) and the squad at this time are with the dead and injured in the neighbouring Emilia Romagnan region."
BBC Northern Ireland's Thomas Niblock, who is in Montecatini, said he was woken by the quake.
"I was about to get up and suddenly my bed was moving across my hotel room," he said.
"I've had a quick scoot around the hotel and the lobby and the surrounding streets and everyone seems to be continuing as normal.
"There was a lady who was brushing the street and brushing her house and the balcony beside me and she just said 'ciao' so that reassured me.
"But certainly when you wake up and your bed's in mid-flight from one end of the room to the other it's very scary."