Breivik 'cut contact with friends' in run-up to attacks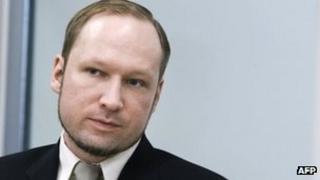 Anders Behring Breivik cut himself off from friends in the years leading up to his deadly attacks, according to the testimony of a former friend.
He became "more serious and less social" and had "lost the spark of life", the witness told the court.
Another former friend told the court Breivik worried about his looks and had a nose job to look more "Aryan".
Four former friends are giving evidence at Breivik's trial for the 22 July attacks, in which 77 people died.
They have asked to remain anonymous and Breivik has been removed from the courtroom at their request. He is watching proceedings from a nearby room.
Breivik claims he shot dead 69 people on Utoeya island and killed eight people in a bombing in Oslo as part of a campaign against multiculturalism and "cultural Marxism".
He admits carrying out the two attacks but denies criminal responsibility.
The trial is seeking to establish whether the 33-year-old is sane. If he is found to be sane, he will be sent to prison. If not, he will be held in a psychiatric institution.
'Less bubbly'
The second former friend who testified on Tuesday told the court that Breivik had become extremely preoccupied with immigration after 2006, and it had become impossible to talk to him without him bringing up politics.
He started calling all Norwegian politicians "multiculturalists", the witness said, and had no understanding for other viewpoints.
This change of attitude came as Breivik moved back in with his mother, he said.
At one stage, the witness described attempting to visit him with another friend on his birthday, but said Breivik's mother had told them he did not have time to see them.
When, in 2011, Breivik moved to a remote farm where, it later transpired, he had carried out much of his preparation for the attacks, the former friend thought he was "out of his depression and getting better".
But when the witness told Breivik he was planning to visit, he was "very determined that that did not suit him".
Breivik "lost the spark of life" and became "less bubbly". At a meeting in an Oslo cafe a month before the attacks, he was "keen to talk politics".
Nose job
In earlier testimony, the court heard from another former friend of Breivik's - a fireman, who Norwegian media say helped out in the aftermath of the bombing in Oslo.
He told the court Breivik had had a nose job in 1999 to appear more "Aryan" - the term used by the Nazi party to denote a white master race.
Breivik has earlier said he had the nose job after being punched by a Pakistani man, but the friend said he could not remember any such attack.
Breivik used powder on his face and worried about how his hair looked; he was social and enjoyed other people's company, the friend told the court.
He appeared "quite tolerant" and never sought trouble, the witness said, adding that he never considered him to be extreme politically.
As well as Breivik's former friends, another survivor from the Utoeya massacre will also testify, after being moved from an earlier scheduled appearance.
The trial is expected to last until the end of June.
The first of two contradictory psychological evaluations judged Breivik to be suffering from paranoid schizophrenia and legally insane. But the second found him to be accountable for his actions.
If found both guilty and sane, Breivik faces a prison sentence of up to 21 years, which can be extended further.