Greek and German wine producers reject eurozone hostility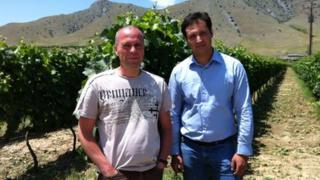 The eurozone crisis is straining the ties that were supposed to bind Europe ever closer - and nowhere is the tension greater than between Greece and Germany.
But not all Greeks and Germans sign up to this growing antagonism. Some reject the orthodox national view.
Markus Stolz is a German who tries to sell Greek wine abroad - with varying degrees of success.
"It's pretty hard selling Greek wine in Germany right now," laughs Mr Stolz.
But he's having much more interest from the United States, where there's a strong and growing demand for the more unusual wine varieties from Greece such as Malagousia and Moschofilero.
Mr Stolz runs Elloinos, a wine export company he set up a few years ago after leaving a career in finance.
He has been living in Greece for the past eight years with his Greek wife and four children.
Greek wine has become his passion, and he was just starting to break down the prejudice caused by unhappy memories of poor quality, cheap Retsina.
Then the eurozone crisis came along and made Greek products even harder to sell abroad.
"As a foreigner living in Greece I fear what is going on," Mr Stolz says.
"Greece is always presented as being a hopeless case. I'm fearful because emotions over Greece have been running more than high in Europe, and this triggers opposite reactions in Greece."
'Tax dodgers'
The economic crisis has driven a great wedge between Germans - who are broadly seen to control the purse strings of the eurozone - and Greeks.
Many German taxpayers object to bailing out Greeks, accusing them of being wasteful tax dodgers.
While in Greece there has been public anger at what they see as German bullying over the austerity programme, which they say has ruined the Greek economy. Some Greek newspapers have even portrayed German politicians as Nazis.
Because Markus Stolz has lived in Greece for several years now, perhaps he has become a little more Greek and a little less German.
But he has talked widely with his Greek and German friends and is dismayed at what he sees happening.
"By now I think it is proven that the German way of things has not quite worked out," he says. "Just saving money and trying to change a whole country in a couple of years is not realistic in my point of view."
"There should be much more effort at getting growth going. The economy is off the cliff and has really been destroyed by the harsh austerity programme."
Shadow of Olympus
We are visiting the Zafeirakis vineyard in northern Greece, where wine-maker Christos Zafeirakis is doing his best to revive forgotten wine varieties.
Christos says his vineyard, situated in the shadow of Mount Olympus, is the only one in Greece producing red wine from the Limniona vine and his entire production of this variety is exported to America.
"We try to educate people to drink these wines made from Greek varieties, but we have one big problem," Mr Zafeirakis says.
"It's the economic crisis, which is very difficult to explain. For me it is very important that when visitors come here, or to the islands, that they drink Greek wine and eat typical food."
The wines Mr Zafeirakis makes are indeed delicious, but they are almost unknown in the rest of Europe. Mr Stolz says Greek wine imports to the UK, for instance, are tiny at about 0.01% of the total.
Not all Greeks blame German austerity for the dire state of their economy, which has been in recession for the last four years.
Thannassis Asimis runs a Greek building firm and has worked closely with German companies.
He spent three years working for German construction firm Hochtief, which built the new Athens Airport, and is convinced the Greek economy needs to learn tough lessons from Germany about efficiency and productivity.
"The Greeks will work 12 hours and won't do what the Germans do in eight hours," he says. "It all comes from above, and we have to change," he says.
"I remember working at Hochtief, and my site manager was German and he said one thing - the Greeks will only learn if you hit them hard in the pocket."
"I'm 100% in favour of what's happening. I think the Greeks need to sit down and start thinking differently. They have to go through all this pain. They have to see it is for the better of the country," Mr Asimis says.
But back at the vineyard, Markus Stolz is encouraged by signs that the debate between imposing austerity and stimulating growth is shifting in favour of the latter, as European economies stutter.
"To keep on going with just austerity is plain wrong," he says. "There has to be growth and there has to be hope. People need to feel there's light at the end of the tunnel if they're making sacrifices, and we can't see it at the moment."
Winemaker Christos Zafeirakis looks up at Mount Olympus, which provides the rain water for his vineyard. "Can the gods up there help Greece?" I ask him.
"We hope the gods will help," he laughs. "With the crisis going on we need all the help we can get."