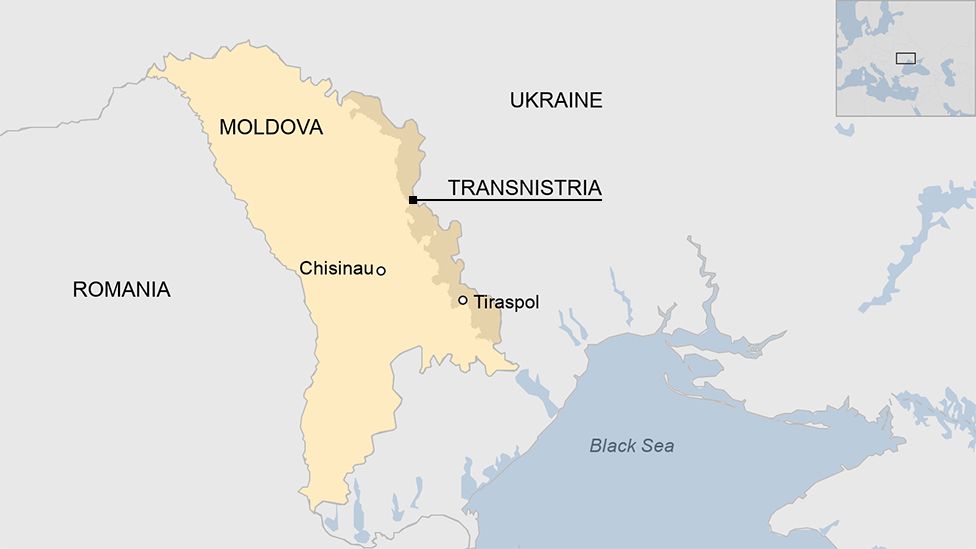 The separatist region of Transnistria or Trans-Dniester - a narrow strip of land between the Dniester river and the Ukrainian border - broke away from Moldova in 1990.
The international community does not recognise its self-declared statehood, and the de-facto government, which remains in a stand-off with Moldova, is economically, politically and militarily supported by Russia, which has an estimated 1,500 soldiers in Transnistria
A referendum on independence in September 2006, not recognised by Moldova or the international community, saw the territory reassert its demand for independence and vote in support of ensuing a union with Russia.
Capital: Tiraspol
Area: 4,163 sq km
Population: 465,000
Languages: Russian, Romanian, Ukranian
Currency: Rubla
President: Vadim Krasnoselsky
Vadim Krasnoselsky beat incumbent president Yevgeny Shevchenko in the December 2016 elections and was re-elected in the December 2021 elections.
He has expressed his support for Transnistria being a part of Russia on numerous occasions
A former speaker of the region's parliament, he enjoys the support of the opposition Renewal party, which in 2016 entered into a partner relationship with the Moscow-based United Russia party.
He served as interior minister from 2007 to 2012. He then left politics, returning as a member of parliament in 2015.
The separatist authorities exercise tight control over the media. Many outlets are owned either directly by the region's government or by business groups with close links to the authorities.
Western governments and media freedom groups say anti-government outlets face serious restrictions, adding that journalists often self-censor. These claims are denied by officials.
In the post World War Two carve-up of the region, Moscow created Moldova's forerunner, the Moldavian Soviet Socialist Republic, from two disparate elements: the mainly Russian-speaking Dniester region, formerly an autonomous part of Ukraine, and the neighbouring region of Bessarabia, which had been part of Romania from 1918-1940.
But in the Soviet Union's dying days, alarm grew in the Dniester region over growing Moldovan nationalism and the possible reunification of Moldova with Romania.
A 1989 law that made Moldovan an official language added to the tension and the region broke away in September 1990.
The breakaway territory's paramilitary forces took over Moldovan public institutions in the area in 1991. Fighting intensified, culminating in a battle on the right bank of the Dniester in June 1992. Up to 700 people were killed in the conflict.
A ceasefire was signed in July 1992, and a demilitarised security zone was established. The settlement was enforced by Russian army troops already stationed in the territory.
The continuing presence of Russian troops has been a stumbling block in peace talks and the West is concerned about the Soviet-era arsenal in the territory. A pull-out began in 2001 but was halted when Transnistria blocked the dispatch of weapons.
Subsequent agreements to resume failed to reach fruition.
Long-running talks supervised by the OSCE, Russia and Ukraine have yet to yield a political solution. In 2004 a Russian-brokered plan, which would have made the presence of Russian troops permanent, sparked mass protests in Moldova and was shelved.
There are disputes over language issues. Though dominated by Russian-speakers, around 40% of the population in Transnistria have Moldovan, which is virtually identical to Romanian, as a first language.
Transnistria contains most of Moldova's industrial infrastructure, but its economic potential is limited by its international isolation.
It has its own currency, constitution, parliament, flag and anthem. One of the last bastions of Soviet-style rhetoric, the territory has nonetheless privatised some of its industrial enterprises.
Russia shores up the region with financial assistance. It has a reputation for corruption, organised crime and smuggling, and has denied accusations of illegal arms sales and of money laundering.