Ukraine arrests Dnipropetrovsk bomb suspects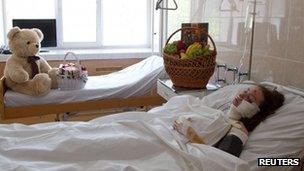 Ukrainian authorities have arrested two men in connection with bomb blasts in April which injured 31 people.
Interior Minister Vitaly Zakharchenko said the two suspects are men from the eastern city of Dnipropetrovsk, where the explosions happened.
He said they had tried to demand $4.5m from the authorities not to go ahead with their plans.
State media said the men are under 40 and have never served in the military, which could mean they are foreign.
Four bombs were planted in rubbish bins in Dnipropetrovsk exploded on 27 April, injuring passers-by.
The wounded included 10 teenagers, and 27 people were taken to hospital.
The attacks happened during the run-up to Euro 2012 football championships, which Ukraine is co-hosting with Poland.
According to Associated Press, Ukrainian government officials blamed the blasts on terrorists.
The opposition, meanwhile, suggested it could be part of a government plot to divert attention from the ongoing imprisonment of former Prime Minister Yulia Tymoshenko.
Ms Tymoshenko was jailed for seven years in October for abuse of power during her time as prime minister. Opposition groups have said the trial was politically motivated.