An Irish 'Yes' to EU fiscal pact but no celebrating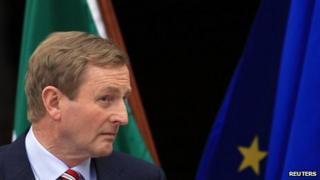 In a period of bad news for the eurozone, this referendum result has been widely welcomed by European officials.
Voters - given the chance - opted to support a pact that will enforce greater budgetary discipline and reduce deficits. Rule-breakers will face sanctions.
The Yes campaign was supported by 60.3% of the Irish people. As one Irish official said, "there will be no pumping fists" in response to the result.
They also know that the key fact that influenced voters was the threat that if they voted No, Ireland would lose access to the main rescue fund in the event the country needed another bailout. Fear of being left without a lifeboat was an important element in the way the Irish voted.
The hope in Ireland is that some large international companies will bring forward their investment plans with the uncertainty lifted.
German Chancellor Angela Merkel, in particular, will feel justified in pushing for countries to sign up to strict limits on spending. She said the outcome "deserves particular recognition and respect".
German Foreign Minister Guido Westerwelle said that all the 25 nations which signed up to the treaty should follow Ireland's example and ratify it.
Mrs Merkel has been involved in a dispute with French President Francois Hollande, who has argued that the policy of austerity first is not working and that the emphasis should be on growth. He has said that he won't ratify the treaty until changes are made.
But Irish voters in significant numbers have signalled they believe that tight control of budgets will lead to stability.
For the eurozone, bigger tests lie ahead - most notably the Greek elections. The key issue there is whether voters will back parties that support austerity measures as a condition of a bailout.
Europe's leaders will hope - without too much expectation - that Greek voters might be influenced by this vote in Ireland.
But there are many who argue that the tougher budget rules are an irrelevance. They will not boost growth for the three countries - Greece, Ireland and Portugal - bailed out already. Neither will they help address the growing crisis in Spain and Italy.
Even Irish Prime Minister Enda Kenny conceded that "budget rules alone will not be enough to overcome the economic crisis that faces Europe".