Man kills three with grenade at Serbia nightclub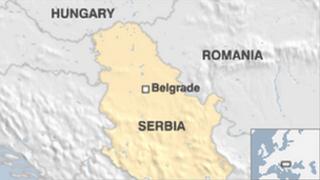 Three people were killed and eight injured when a hand grenade was thrown at a nightclub in a Serbian village in the early hours of Sunday, police say.
A man threw the hand grenade when he and three friends from a nearby village were refused entry, state TV reported.
The man and at least one of his companions were killed in the blast in Idvor, about 60km (37 miles) north of Belgrade, it said.
The injured have been taken to hospital and an investigation has been launched.
Reports suggest the club was packed with some 150 revellers at the time of the blast, about 02:30 local time (00:30 GMT).
Incidents with firearms are relatively frequent in the Balkans, because of the wide distribution of weapons left over from the wars of the 1990s, but the number of dead and injured this time was unusual, says the BBC's central Europe correspondent Nick Thorpe.