Greeks queue as pharmacies run out of medicines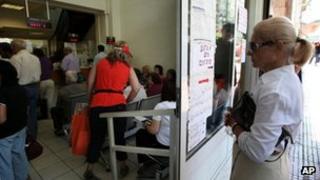 Queues have formed outside pharmacies in Greece after the cash-strapped government promised to tackle a shortage of critical medicines.
Despite a government promise to make cancer drugs available, people said they were still unable to find them.
People complained they had had their cancer treatment interrupted and were worried they might die as a result.
Greek Health Minister Christos Kittas said money owed to pharmacies and hospitals would be paid soon.
On Tuesday, the country's diabetes association said thousands of lives were at risk after pharmacists cut credit to the largest healthcare fund, leaving many sufferers unable to pay for medication.
'We cannot cope'
Kostas Lourantos, head of the pharmacies' association in the Attica region which includes the capital Athens, said pharmaceutical companies were no longer interested in selling to Greece because of its bad debts.
"This is the case with Roche, Bayer, Novartis and Sanofi" and others, he told AFP news agency, adding that drug prices were also "very low compared to other European countries".
Giorgos Kontogiorgos, a pharmacist in Athens, told the Associated Press news agency: "Unfortunately the social security system has collapsed and the situation is tragic.
"People are being inconvenienced. We find ourselves in the difficult position of not being able to issue prescription drugs from insurance funds because the debts of the state are unbearable for Greek pharmacies. We cannot cope. We are all indebted to banks, resulting in this situation."
Greece is struggling to meet the conditions of two international bailouts worth a total of 240bn euros (£190bn; $310bn).
Doubts have been cast over its agreement to make deep cuts to pensions and pay, raise taxes and slash thousands of public sector jobs after pro-bailout parties failed to form a new government following last month's election.
The country goes to the polls again on 17 June.