Seals' severed heads nailed to signs in Dingle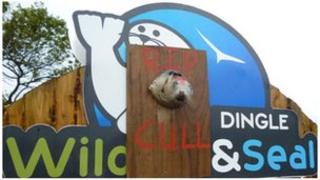 The severed heads of two seals have been nailed to signs outside an animal sanctuary in the Republic of Ireland.
A passing motorists saw the heads outside the Dingle Wildlife and Seal Sanctuary in County Kerry.
Irish police are investigating the incident and are examining plaques at the scene which read: "RIP - cull" and "RIP - I am hungry".
The seals' heads were left on entrance signs to the sanctuary.
The decapitated seals were about six months old. Staff at the sanctuary are said to be "sickened" by the discovery.
Dingle is famous for its tours to spot seals, whales and the famous dolphin Fungi.
However, some people are unhappy about the sanctuary and argue that the seals are destroying local fishing waters.
In 2004, about 60 young seals were shot, stabbed and bludgeoned to death on one of the Blasket Islands off the Kerry coast.
Many believe that such attacks are carried out by fishermen who regard seals as a menace to their livelihood.