Afghan carpet affair ties German minister in knots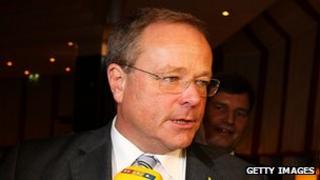 A German minister who sent home a big Afghan carpet free of charge aboard an intelligence service plane has drawn criticism from opposition politicians.
A spokesman for Development Minister Dirk Niebel says the customs duty required for the carpet will be paid.
Mr Niebel bought the 30kg (66-pound) carpet for himself in the Afghan capital Kabul, the Spiegel news website reports. It cost about $1,400 (£907).
Import duty was not paid when it arrived in Berlin last month.
The opposition Social Democrats (SPD) have demanded an explanation from the minister. He is a member of the liberal Free Democrats (FDP), junior coalition partners with Chancellor Angela Merkel's conservative Christian Democrats.
Mr Niebel had left the 9 sq m (97 sq ft) carpet at the German embassy because he could not get it on a scheduled flight. Then the German foreign intelligence service (BND) offered to fly it back to Berlin as a favour, German media report.