50th International Eucharistic Congress begins in Dublin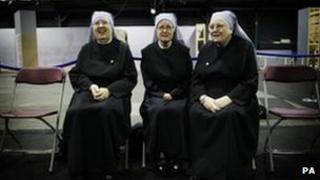 The Catholic Church in Ireland begun its 50th International Eucharistic Congress on Sunday.
Around 20,000 pilgrims, over a quarter of them from overseas, were at the opening ceremony at the RDS in Dublin.
The congress, which is a festival of faith and prayer, is expected to attract up to 12,000 people a day for eight days.
The theme of this year is 'The Eucharist: Communion with Christ and with one another'.
Monsignor Brendan Byrne, administrator of the Diocese of Kildare and Leighlin, said he hoped the congress would help pilgrims return to the lifeblood of faith.
"My hope is that the people of the diocese will gladly grasp this invitation to focus on what is it the heart of our faith; the person of Jesus Christ and our relationship with him.
"This is the lifeblood for all we believe."
Like the Olympic Games, the Eucharistic Congress is only held once every four years. The last one was held in Quebec in Canada.
A ceremony celebrating Irish cultural heritage will welcome the delegates. Musical performers will include the Three Tenors and the Palestrina Choir.
The congress moves to Croke Park stadium next Sunday for the final mass, which will be led by Pope Benedict's representative, Cardinal Marc Ouellet.